Companies
Not an ordinary high school student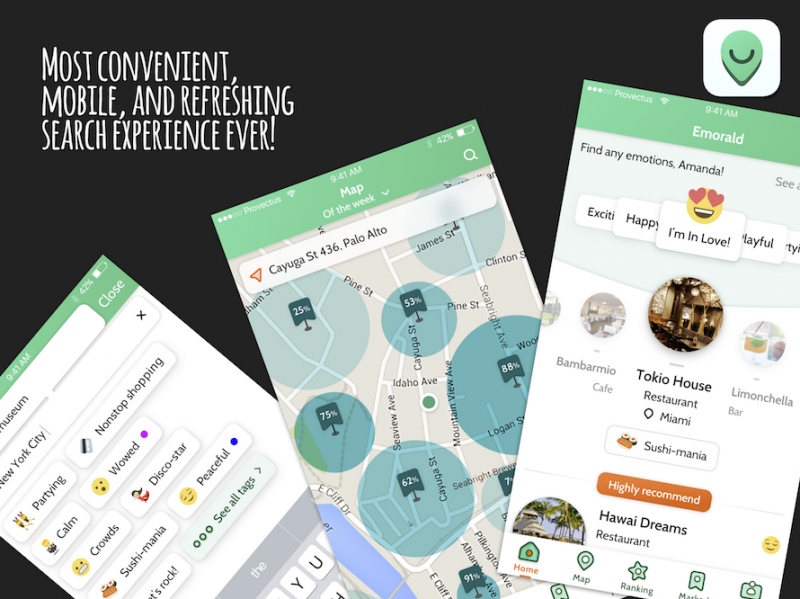 By Sara Isenberg
Founder, Publisher, Editor-in-Chief, Santa Cruz Tech Beat
March 2, 2017 — Santa Cruz, CA
How great ice cream inspired this local high school student to start a company
Buffy Li considers herself to be "an ordinary high school junior." She goes to Kirby School in Santa Cruz. Like many of her peers, her daily life consists of attending school, socializing, and preparing for college.
However, Buffy is also — and unexpectedly, she says – the CCO (Chief Commercial Officer) of a startup, TagDat, a consumer review app company that she started with two other co-founders. She explains, "TagDat introduces a completely new review-system and advanced tech concepts like machine learning and augmented visualization. TagDat can data-process millions of reviews to generate results compatible to users' personal needs." So, for example, she says, foodies can quickly find restaurants that are arty, spicy, business-friendly, or that have any number of other characteristics.
And, even more surprising to Buffy, TagDat recently received $250K in pre-seed investment funding! Despite what she says, I wouldn't call this "ordinary" for a high school student. Indeed, this is her second adventure at a startup. She was an early-stage employee at Haorizi, a social gathering platform for Chinese housewives.
Back to TagDat. Buffy and her two co-founders, Zheng Cai and Wilson Li (no relation), first created the idea of TagDat in May 2016.
Zheng Cai, CIO, is an astrophysics researcher and postdoctoral scholar at UCSC. After extensive market research by Wilson Li, CEO, they built some essential features of the product, and were able to persuade an angel investor to put in $30K. The team immediately began working on building a functional prototype.
After establishing the connection with the angel investor, the trio was introduced quickly to a VC company, Shanghai Man Feng Asset Management Company last August. They successfully pitched to the board investors who decided on the spot that they would invest in TagDat's pre-seed round for $250K.
TagDat is now about to enter seed stage, during which they will seek around $4M.
Buffy says she believes that TagDat was able to receive the investment because of the technical foundation laid forth by the Zheng Cai and because of the profound market & consumer analysis carried out by Wilson Li.
An accidental encounter
Buffy says she conceived of the review app all because of an accidental encounter. She tells the story of how she used to visit a small non-chain ice cream shop in downtown Santa Cruz run by a kind and welcoming woman. Buffy firmly believed that, compared to other ice cream stores, this place served the best ice cream in the area.
Unfortunately, every time Buffy and her friend visited the shop, they noticed that they were the only costumers. As well, the shop had a bad Yelp review. So, Buffy encouraged her friends to give as many positive reviews for this ice cream shop as possible because she feared the place might go bankrupted. Despite their best effort in improving the reviews and help boosting the shop's presence on Yelp, this after-school-go-to place still had a very low review. Within a month, the shop closed down.
Confused by this, Buffy explains how she set out to explore why this tragedy had to happen. She reports that she discovered "a rapid decrease in small and new local businesses across the entire country." And, at the source of this problem, she says, are the conventional review apps that review businesses.
She discovered that these big review companies, such as Yelp and Tripadvisor, do not just ignore small and new local startups but they also actively bully them. Buffy says this happens because, "rather than focusing on user demands and unique needs, Yelp and others only care about profiting from advertising and promoting local big brands, which explains why many of us can only find the most popular, reviewed, and big-named businesses first on their platforms."
Buffy was very concerned that the conscious decision made by companies such as Yelp, Tripadvisor, and Zomato to neglect smaller businesses would eventually destroy many local shops while helping the big brands to increasingly gain more recognition and revenue. Even more despicable to Buffy, she learned that Yelp and many others similar review platforms actually threatened many of the startups that didn't elect to pay a monthly advertising fee. This, she believes, unfairly filters out positive reviews.
Since so many consumers determine their destination through online reviews, many new and small businesses' livelihoods depend on the reviews. "The country would eventually be devoid of opportunities, innovations, and the American dream," Buffy says. As a result, Buffy decided to create a consumer review app that would be provide equal opportunities for both small/new and large/established businesses.
Astrophysics, big-data, machine learning, and augmented visualization
Comparing TagDat to other existing products in the review market, Buffy says "TagDat is the first consumer review app to employ advanced astrophysics/tech concepts of big-data, machine learning, and augmented visualization. For example, TagDat has the capability of data-processing reviews to generate results compatible to users' personal preferences. With TagDat, you can instantly find a local business to visit and understand their unique characteristics and features. It gives every single business the same opportunity because TagDat's system emphasizes the users' individual needs more than generating fames for big businesses."
Buffy genuinely wants small businesses to have the opportunity to compete with the big guys. She wants to "help local businesses rise up against the profit-drive corporations in this market."
That sounds like a Santa Cruz high school student!
===
Learn more at http://tagdat.io. TagDat plans to release a public Beta next week. Stay updated via their Facebook and Twitter pages.
###
If you wish to republish this article, please follow our Terms of Use.
###
Tagged TagDat