Companies
What Is the Benefit Of Radius Targeting?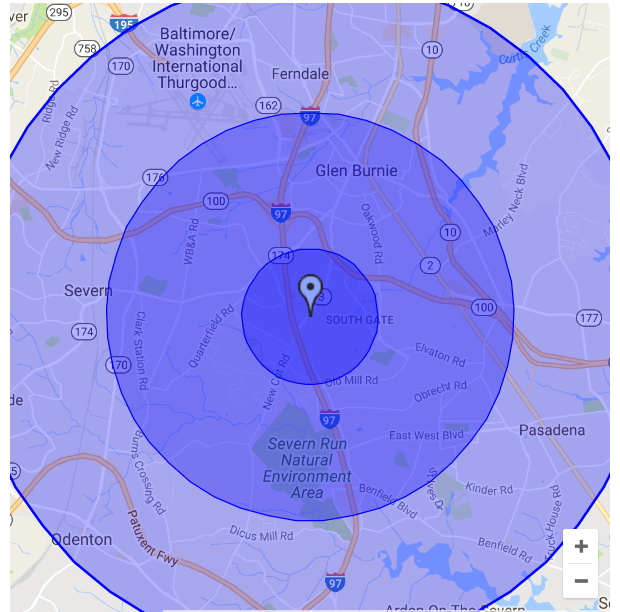 By Silke Laetz
Vertical Rail
March 2, 2017 — Aptos, CA
Radius Targeting, also referred to as Proximity Targeting, allows advertisers to show ads to customers within a specified geographic radius around a business, retail location, or population center. Advertisers can target ads to customers near-by, based on the customers' GPS signal of their mobile phones.  I will illustrate how Radius Targeting, as an advanced location-targeting tool, can assist Google Adwords marketers reach their target audience.
Google Adwords: How To Target A Radius Around A Location
Click the Campaigns tab.
Click the name of the campaign you wish to edit.
Click the Settings tab > Edit next to "Locations" > Advanced search
At the top of the window, click on Radius Targeting
In the search box, enter the address of the location you'd like to use for the center of the radius. Enter the radius that you'd like to target and select a unit of measurement from the drop-down menu.
Click Search to locate the radius on the map.
Check the map to make sure you're targeting the correct area. When you're ready, click Add to add the radius target. You can also select Add all to add all of the individual locations within the radius that you've selected instead of adding the radius target. If you want to refine the list of areas that you'd like to reach, you can target only certain locations or exclude some locations from the Locations within this target list. In some instances, we won't be able to show reach for an area that is too small or because there isn't enough data for the location.
Click Done at the bottom of the window.
Click Save to save your settings.
Optional: proceed with additional incremental distance radius targets to separate bid adjustments (example to follow in next segment about location bid adjustments).
In the example below, we radius target mobile users around a car wash business in Glen Burnie, MD. We selected several radius targets in increments of 1, 3, and 5 miles around the car wash. The incremental radius targets give us the option to refine our bid adjustments based on the distance from the car wash.
Continue reading here: http://www.verticalrail.com/kb/radius-targeting/
###
Tagged Vertical Rail