Events
SCTECH 2017 offers hands-on STEM experience for students in grades 7-12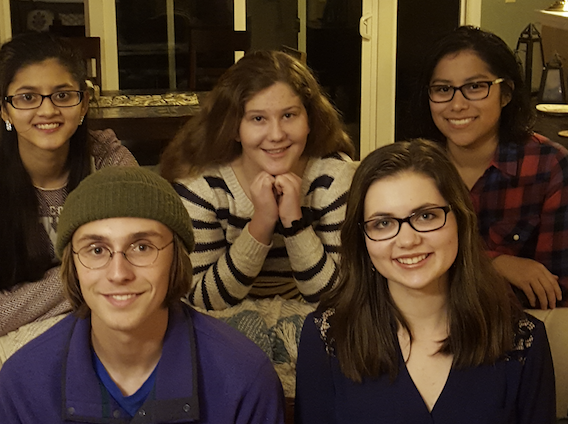 By Rose Garcia, SCTECH Sponsorship Lead, and Emily O'Neal, SCTECH Director
Special to Santa Cruz Tech Beat
February 8, 2017 — Santa Cruz, CA
(Photo above: This is the team behind SCTECH. Front, left to right: Reese Gyllenhammer, Emily O'Neal; Back, left to right: Anisha Jain, Julia Dyc-O'Neal, Rose Garcia. Credit: Catharine O'Neal)
If you, or a 7th – 12th grade student you know, are interested in technology, design, or entrepreneurship, then we have an event for you!
We are excited to present the Santa Cruz Teen Entrepreneur Challenge (SCTECH) on Saturday, February 25, 2017, 8am-9pm. The event will be held at the Santa Cruz Museum of Art and History in Santa Cruz.
Inspired by well known successful hackathons such as Hack UCSC, SCTECH aims to provide a unique experience for middle school and high school students who might otherwise lack an opportunity of this caliber.
We, a group of local high school students, want to create an event to inspire the excitement about technology that is so vital to the Santa Cruz community, yet is lacking in many student's lives. With the knowledge that technology is booming and there is a demand for more student programmers, entrepreneurs, and innovators, we believe it is imperative to encourage our peers, especially any girls who are interested, to experiment with technology. We hope that they will push past any negative stereotypes and see it as an opportunity to shape the future. As a group of teens working to inspire other teens, we know this is a valuable experience for any student interested in technology and one that we wish we could have had. Many local students, including some of our team, have had no opportunities through their schools to pursue more involved computer science or STEM. Not only do we want to spark their interests in technology and innovation, but aim to give them an avenue to turn it into action.
Mentors, Judges, Prizes, Sponsors
At the event we will have mentors, college students, and teachers, attending to support, encourage, and help the students see that they too can create the next hit app or program. We also have sponsors such as Looker, Cruzio, and Hyperloop One supporting us with great prizes and judges and helping us encourage participants to connect with people in the community. Our sponsors also contribute to everything from the meals we provide to throughout the day to the swag that participants receive so that we can create a great event for our students.
Special guest speakers
We are honored to have amazing guest speakers like Sudha Jamthe, a Stanford professor, author, advocate for women in CS, and much more, come to inspire the next generation of innovators in Santa Cruz.
Design, Innovator, Changemaker
The event itself is an all day competition with different judging categories and requirements to allow for the most skill diversity and creativity possible. Most notably, we have the Design Competition category in which students utilize prototyping tools to build their projects. There are sections of this category for 7th – 9th graders and for 10th – 12th graders so no experience is required for any participant. However, for those students interested in programming their apps, we have The Innovator. The Changemaker category is open to all teams and encourages students to build solutions to problems in our community. All categories will be judged not only on excellence and presentation but on effort and creativity as well.
How Can You Get Involved?
Sign up and mark your calendars for February 25, 2017! Registration is open now for only $10 and fee waivers are available. Sign up HERE! Students are encouraged to organize teams of 3 – 4 or can connect with a team on the day of the event. No experience is necessary and we encourage everyone to sign up!
If you are not a student who can compete, you can help us by spreading the word to any students who may be interested. The MAH is open to the public, so anyone is welcome to stop by and see our local students innovating. You can contribute at https://www.gofundme.com/sctech. We also have sponsorship positions open as well as openings for judges, mentors, and staff volunteers and greatly appreciate your support. All you have to do is email us at sctechallenge@gmail.com.
More information is available at http://www.santacruzteenchallenge.com.
###
If you wish to republish this article, please follow our Terms of Use.
###
Tagged SCTECH