Companies
Green Tech: Salinas holds its first Electric Vehicle Summit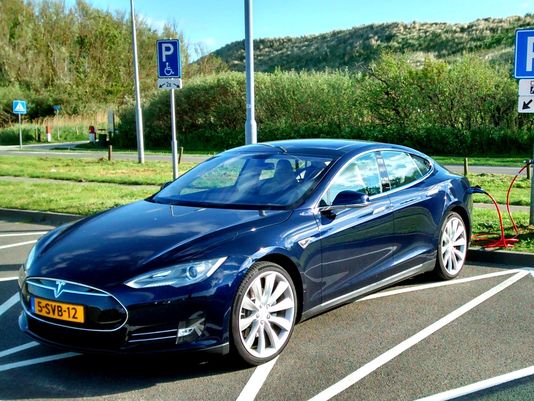 (Contributed)
October 20, 2016 — Salinas, CA
[Editor's note: I am publishing this article upon receipt for those of you who follow Santa Cruz Tech Beat on our website, Facebook, or Twitter. For those of you who read Santa Cruz Tech Beat news each Tuesday morning in our free weekly email digest, you will, unfortunately, be reading this after the event has taken place.]
(Photo above, source: Monterey Bay Electric Vehicle Alliance facebook page)
Salinas' first Electric Vehicle Summit and Test Drive at City Hall on Monday, October 24, 2016
During this event, participants will:
Test drive some of the most popular Electric vehicle (EV) models on the road today including the Tesla models S & X, Chevrolet Volt, Nissan Leaf, and others.
Talk one-on-one with local EV dealers, experts, and owners about their experiences with driving electric.
Hear from TAMC representatives, local EV experts, owners, and enthusiasts about the latest advancements in technology, the various types of EVs on the market, the expansion of our Monterey Bay EV charging network, and available rebates and incentives to help make purchasing or leasing an EV affordable.
Electric vehicles have become more accessible due to advancements in technology, rebates and incentives to assist with purchase or leasing, and the expansion of public charging stations.
According to the Environmental Protection Agency, motor vehicles are responsible for nearly half of the toxic air pollutant emissions in the United States, including greenhouse gases that contribute to climate change. Plug-in electric vehicles require no gasoline and produce no direct emissions.
This green technology event is sponsored by the City of Salinas, the Monterey Bay Air Resources District, the Transportation Agency of Monterey County, and the Monterey Bay Electric Vehicle Alliance, with support from Ecology Action and Salinas City Council Member Steve McShane.
Details
What: Electric Vehicle Summit and Test Drive Event
When: Monday, Oct. 24 from 5 – 7:30 p.m.
Where: Salinas City Hall Rotunda, 200 Lincoln Ave., Salinas
This is event is open to the public and free to attend.
More information is available at http://mbeva.org, or from Emily Gomez, Ecology Action, at (831) 515-1328 or egomez@ecoact.org.
###