Companies
Creator Mike Clifton (aka Mr. Moho) tells the history of Anime Studio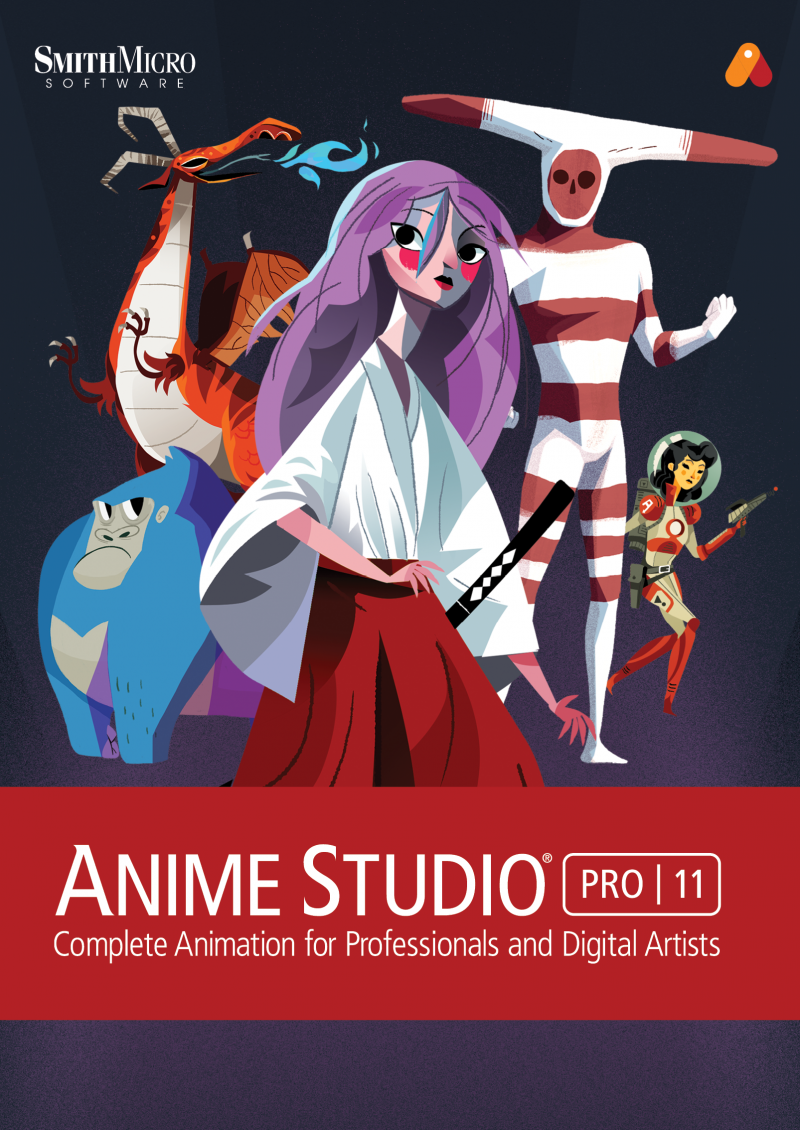 By Mike Clifton (and Emmy Rey)
Special to Santa Cruz Tech Beat
June 16, 2016 — Santa Cruz, CA
(Image above: Cover of Anime Studio Pro 11.)
[Editor's note: Mike Clifton is Smith Micro's creator of Anime Studio. He has been working with the program for 17 years, starting from its infancy when it was known simply as Moho. I've been told that Anime Studio is now considered to be one of the best 2D animation programs on the market. Clifton's colleague, Emmy Rey, asked  him to walk through the history of Anime Studio and tell us how it all took place, right here in Santa Cruz.]
Here is Mr. Moho's story
In 1998 I went to work on a 3D-animated feature film in the effects department. It was not what I had expected. I thought I was going to be developing specialized tools used to create effects in the film, but instead I was assigned to work on a tiny detail of an almost invisible part of the movie. I realized that even back then, 3D animation had gotten so complex that to create even a short film, it takes huge teams of people with very specialized jobs (lighting, texturing, rigging, etc.).
3D movies are great, but I thought there must still be room for less highly technical animation. Take a look at the animated shows on Cartoon Network or The Disney Channel, and you'll see that 2D is definitely not dead. So I set out to make my own 2D animation tool, with the goal to enable individuals and small teams of animators.
So I started development of Moho (*) in 1998. I did most of my coding at home, but when I got tired of that I went up to the Science Library at UCSC and worked at a little cubicle desk. Luckily, as a graduate of UCSC I was fortunate enough to have their resources available to me!
At the time, Apple was struggling, and a new company was developing an operating system ahead of its time, BeOS. The original version of Moho targeted BeOS – my thinking was that I could have one of the first commercial products on the new operating system. Early potential customers were interested in Moho but weren't ready to switch to BeOS, so Windows and Mac versions soon followed.
Over the years, Moho went through multiple major revisions, gaining new capabilities and building up a base of hobbyist and independent animators. It was always exciting for me (and still is), to see the kinds of things people created: TV commercials, music videos, and film festival submissions. Even a couple feature films used the software back in the Moho days.
In 2006, I was a husband and father with a growing family and had almost given up on Moho in favor of a job with more stability. Lucky for me and the Moho users, a company called E Frontier, (located in Santa Cruz) approached me with the idea of republishing Moho. E Frontier was publishing a comic illustration product called Manga Studio, and so we decided to rename Moho to Anime Studio to kind of build a family of related products. With E Frontier's support, I was able to keep developing the product, although it continued as kind of a side project from my day job.
The next big change was in 2008 when Smith Micro acquired some of E Frontier's graphics products, including Anime Studio. At that time, I came on as a full-time employee at Smith Micro. For a while at Smith Micro, I was still the sole developer of Anime Studio, but over the years we've added more engineers to the team and we each specialize in different parts of the product, with overlap and collaboration of course. We are currently working on version 12, set to be released later this summer, we're all super excited about it!
It's crazy sometimes to look back and realize that I've been working on this product for almost 18 years, and all the life changes I've gone through over that same time period. But it's great! I love working with and meeting the artists that use the product. They've truly got the talent and inspiration to make funny or inspiring stories, and I feel fortunate to be creating a tool that helps them realize their visions!
===
(*) People often ask about the name "Moho." When I started developing that original version, I needed inspiration for a name. Looking for ideas, I picked up my girlfriend's (now wife) geology textbook, flipped to a random page, and found the "Mohorovicic discontinuity" (commonly called Moho), the boundary between the Earth's crust and mantle. It had no basis in animation, but that's where it came from. Funny how things work out like that.
If you would like to learn more about Anime Studio check out our website! There are a ton of great educational resources there along with our official Anime Studio forum.  Please join the conversation!
###
If you wish to republish this article, please follow our Terms of Use.
###
Tagged Smith Micro Graphics