Companies
Santa Cruz Biotech to close research lab, pay $3.5M fine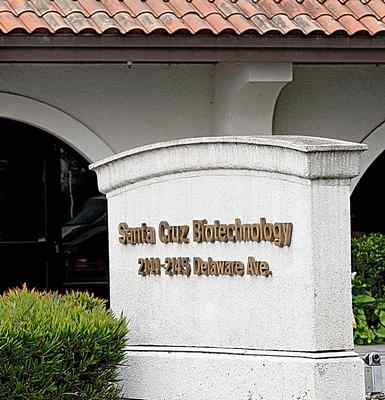 By Jondi Gumz
Santa Cruz Sentinel
May 26, 2016 — Santa Cruz, CA
(Photo above: Santa Cruz Biotech had a large presence in this building on the Santa Cruz Westside, with at least 152 employees in Santa Cruz, but its headquarters are now in Dallas. The company will close the Santa Cruz research lab and pay a $3.5 million fine from USDA. Credit: Dan Coyro)
Santa Cruz Biotechnology, one of the world's largest suppliers of antibodies for research, has agreed to pay a $3.5 million penalty, give up its animal dealer license and close its research lab to settle allegations by the U.S. Department of Agriculture that goats and rabbits at its Santa Cruz facility were mistreated.
The company, the city's 12th largest employer with 152 employees reported as of September, did not admit or deny allegations of wrongdoing in the May 19 consent order signed by Administrative Law Judge Bobbie McCartney. The order will be posted at Oaljdecisions.dm.usda.gov.
Inquiries left by the Sentinel on the Santa Cruz Biotechnology media line were not returned, and attorney Mark Lynch of Covington & Burling in Washington, D.C., who signed the May 19 settlement for the company, did not respond to a request seeking comment.
Santa Cruz Biotechnology, founded in 1991 by John and Brenda Stephenson and privately held, is headquartered in Dallas with offices in Santa Cruz, and Paso Robles and Sun Valley, Idaho and global sales locations in Heidelberg and Shanghai.
Continue reading article here: http://www.santacruzsentinel.com/article/NE/20160523/NEWS/160529886
###
Tagged Santa Cruz Biotech