Companies
Loud Powerful Sound: a startup's journey of innovation in consumer bluetooth speaker products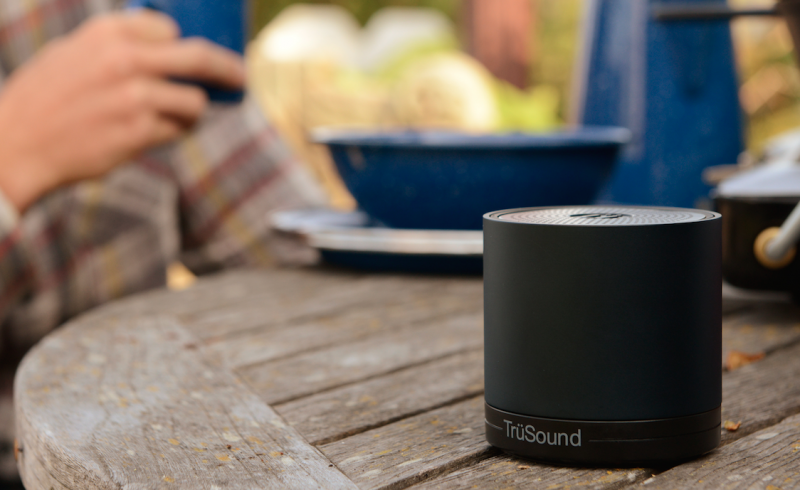 By Vania Benavides
Special to Santa Cruz Tech Beat
May 5, 2016 — Santa Cruz, CA
Competing with the big boys in the portable bluetooth speaker
Trüsound Audio, a wireless bluetooth speaker startup brand was founded in late 2012 by entrepreneur Dennis Reagan, a Santa Cruz native who has been part of the electronics industry for over 35 years. Dennis became aware of the potential of wireless and bluetooth enabled speakers for mobile devices as a result of owning a large number of Verizon locations.
Although the market for portable speakers is currently competitive, Dennis saw an opportunity for developing and designing a portable speaker that was affordable–with a sleek design and high sound quality.
Quality and Feature Iterations
One of the reasons for Trüsound Audio's initial success is its commitment in creating and innovating new product models. The first mini speaker was smaller than the current version, sold 7,500 units, incorporated an SD card slot, and bluetooth compatibility. After testing and customer feedback, Dennis realized including an SD slot was neither important nor useful to customers.
Upon validating the initial proof of concept in 2013, he went back to the drawing board and invested $100,000 in tech improvements. The new model T2 comes with built-in mic, dynamic bass quality, and patented interchangeable sleeves.
The 2nd generation T2 speaker dumped the SD card feature, added a bigger amplifier, 360 degrees of surround sound, and a high quality microphone. Trüsound Audio wanted to ride the wave of bluetooth-enabled hands free calling and incorporated the ability for the speaker to pick up incoming calls while listening to music seamlessly from your device.   Larger brands and manufacturers realized this was a huge market as well, so it has become crowded very quickly. In spite of this, Trüsound Audio wants to continue delivering portable bluetooth speakers with good sound quality and keep it under $100 retail price point.
As technology progresses toward easier and more convenient connectivity, Trüsound Audio is currently producing a third generation speaker model T3 using an Intel Chip manufactured from Taiwan. The new models take the concept from indoor speaker company, Sonos. However, instead of Wi-Fi, the speaker will use the latest NFC, 5.GHZ RF and Bluetooth 3.0 to incorporate all room play technology; allowing you to have multiple units in your house all playing at the same time from the same source. This is ideal for formal or casual events where speakers are needed in different rooms. Trüsound Audio's speakers are designed to be taken with you everywhere, outdoors, nature hikes, the beach, house parties, and everywhere else life takes you.
Competing with the big boys in the portable bluetooth speaker
When your startup is competing against billion dollar hardware and software technology companies like Bose, Apple, Sony, LG, Amazon, Jawbone, JBL, who seem to have unlimited advertising budgets, it can be more than a little stressful at times to figure out how to creatively build your brand and reach consumers.
Trüsound Audio's strategy focuses on sales via several channels. Dennis Reagan's retail background and past wholesale experience has been advantageous in terms of driving sales. As a result he has formed relationships with other retailers in addition to promoting and selling the T2 portable speakers online on www.TrüsoundAudio.com. "Promoting the product online is challenging when people are not able to hear the device in person, but this will be the way to keep it affordable, so it's a strategy we are developing with Digital Marketing agency, Vab Media."
Price vs. features still seems to matter
Recently Amazon has been heavily promoting the $179 Echo speaker product with Alec Baldwin TV ads, partnerships with Techcrunch conferences, and even promoting it via their publishing news site Business Insider. But the Amazon Echo is still a novelty to some, according to a well known technology gadget reviewer Paul Thurrott. In his article, he reviews the echo and claims, " We're returning the Amazon Echo … Two weeks after my wife and I invited Alexa into our home, we're saying goodbye to the Amazon Echo and returning it to Amazon for a refund. The reason? This technology, while interesting and a clear peek at the future, just isn't essential."
But in a market with several portable bluetooth speakers to choose from, Trüsound Audio believes there are two main reasons a consumer would choose their brand over others. "First, we are a very focused on the quality of the microphone technology so you can pair it to your computer or phone for hands free calling. Second our speaker products have better quality sound than competitors at our $79.99 price point. We want everyone to share music and videos with family and friends," claims Dennis Reagan.
Where is the bluetooth speaker market going?
The global bluetooth speaker market is projected to reach a total market value of $9.12 billion by end of 2020.
Where does Dennis see the future of the global bluetooth speaker market heading?  "The growth in R&D innovations within portable technology as well as the global adoption of smartphones will continue to drive consumers to seek enhanced sound quality devices. Additionally, attractive features such as colors, different shapes with multiple uses, and improved connectivity features are piquing interest among buyers." He further discusses what he sees as the current technological limitations of the portable speakers market. "One major limitation of the bluetooth speaker market is the short range playback capacity; this hindrance relates to a lack of accessibility and interoperability whenever the user and device source move out of the bluetooth range. The connection breaks down and the speakers are unable to play the music, while other wireless technology such as Wi-Fi and Airplay offer much wider ranges of streaming capacity."
As Trüsound Audio's journey progresses toward becoming a household name and carving out a slice of the industry, its owners are aware of the challenges involved in competing with other brands and manufacturers. They also know that to survive and grow they need to continue to invest in R&D, launch new products, then sell and promote across several channels.
###
Vania A. Benavides is Marketing Director at Vab Media Digital Marketing Agency.
###
If you wish to republish this article, please follow our Terms of Use.
###
Tagged Trusound