Companies
PAMF doctors save time with Google Glass startup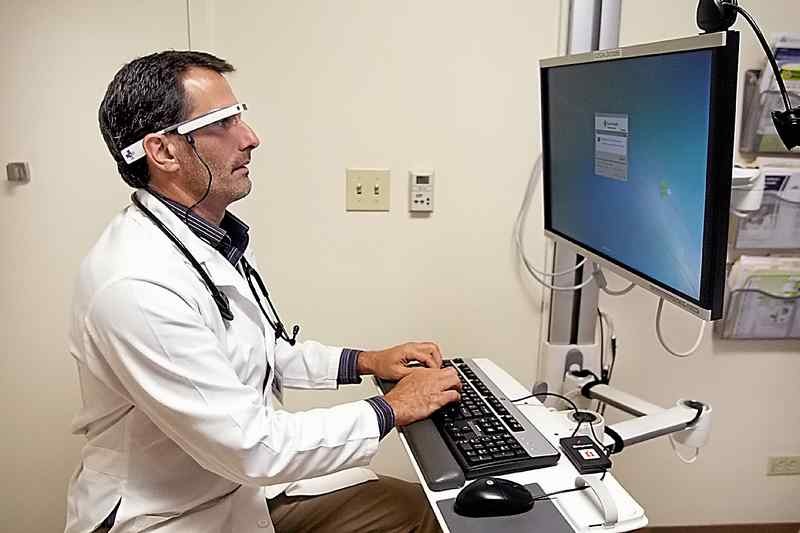 By Jondi Gumz
Santa Cruz Sentinel
April 21, 2016 — Santa Cruz, CA
(Photo above: Dr. Daryl Nounnan is among the first urgent care physicians at Palo Alto Medical Foundation Santa Cruz to use Google Glass and Augmedix technology, which the company says gives doctors time to see at least one more patient a day. Credit: Dan Coyro)
Doctors working in urgent care at Palo Alto Medical Foundation are using technology from a San Francisco startup with Google Glass to cut back on time spent record keeping and focus more on patients.
Augmedix, co-founded in 2012 by millennial entrepreneurs Ian Shakil and Pelu Tran out of Stanford University, streams audio and visual information to a medical scribe in India or San Francisco who updates the patient's electronic medical record, a necessity in today's Affordable Care Act era.
"It's like having a scribe in the room with you," said Dr. Terri Nauenberg, division head for primary care at the Palo Alto Medical Foundation in Palo Alto, part of Sutter Health.
She wasn't sold on the idea at first.
"I was terrified," she admitted, "but patients were grateful."
Nauenberg used to spend a third of her day at the computer, turning away from patients to type and update records, but no more.
Sutter Health is among the first six adopters of the technology, according to company officials, and is ahead of others in terms of the number of doctors involved.
The technology allows doctors to view the patient's entire medical record and patients can log in to read the notes.
Continue reading article here: http://www.santacruzsentinel.com/business/20160420/palo-alto-medical-foundation-doctors-save-time-with-google-glass-startup