Events
28th Annual Science & Engineering Fair is March 12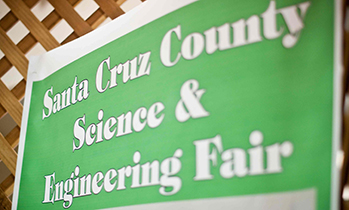 (Contributed)
March 4, 2016 — Santa Cruz, CA
Santa Cruz County Office of Education celebrates local science and engineering student achievement at the 28th Annual Science & Engineering Fair on Saturday, March 12, 2016.
The Santa Cruz County Science & Engineering Fair is a regional academic Science, Engineering, Technology, and Mathematics (STEM) competition for students in grades K-12. This annual event promotes high quality student research in science and engineering in Santa Cruz County schools, and provides opportunities for advancement of finalists to state and international science and engineering competitions.
Through the generous support of Seagate Technology, the Synopsys Foundation, and other community partners, the County Science & Engineering Fair provides 1st-3rd place ribbons to top projects in each category, monetary awards to top projects in each grade level division, special awards, and support for students who go on to compete at the International Science and Engineering Fair and California State Science Fair.
On Saturday, March 12, 2016 from 9am-12:30pm, approximately 400 students from schools across Santa Cruz County will be interviewed and reviewed by more than 100 volunteer judges representing local scientists, university research staff, educators, graduate students and community partners. Public viewing of projects is on Saturday evening from 5-7pm at the Santa Cruz County Fairgrounds, Harvest Building.
The Awards Ceremony will be held on Tuesday, March 22 from 7-9pm at the Santa Cruz Civic Auditorium.
Learn more here: http://science.santacruz.k12.ca.us/

###