Featured
Greg's List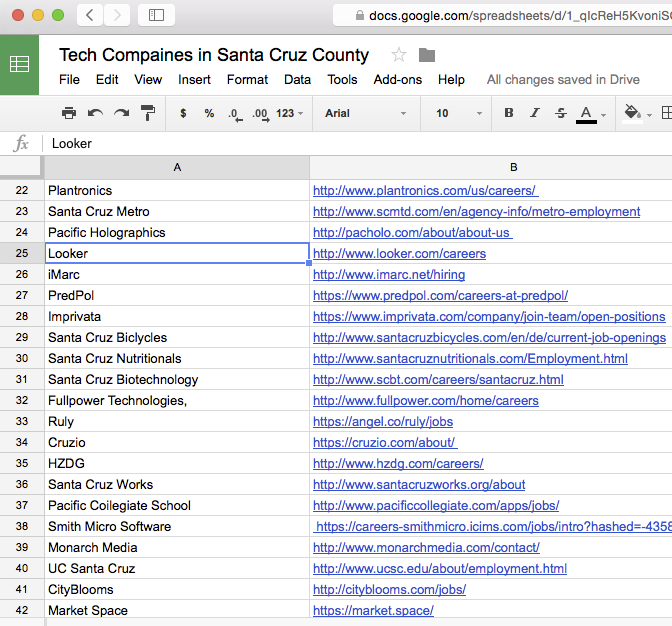 By Sara Isenberg
Founder, Publisher, Editor-in-Chief, Santa Cruz Tech Beat
February 11, 2016 — Santa Cruz, CA
Job hunter Greg Rose is taking an organized approach in his search for a local tech job. He created a spreadsheet of local companies that hire tech. And then, in an act of generosity, he offered to share his list — I've dubbed it Greg's List — with me for Santa Cruz Tech Beat readers.
I had the opportunity to ask Greg a few questions. Here's the scoop.
SCTB: What is this list and why did you create it?
GR: This is a list of companies in Santa Cruz County that are either tech companies or hire tech workers and also have a jobs/careers page to link to. I created this list because I am looking for a job on this side of the hill, and I was not able to find a definitive list of tech companies in Santa Cruz county, so I decided to create my own.
SCTB: Why are you sharing it?
GR: So that other people can benefit from it. It took me some work to put this list together and it would make me feel better if others were able to benefit from it, as well. I am all about local tech folks finding jobs on this side of the hill, so hopefully this list will make it easier for people to look for their next opportunity in Santa Cruz County
SCTB: Would you like folks to contact you with additions?
GR: Yes, absolutely. Email is best… greg.c.rose@gmail.com
SCTB: Are you still job hunting? For what kind of job? Looking over-the-hill, too?
GR: Yes. I am mostly looking for a Community Manager/Social Media Manager position working with software and/or hardware developers in a Developer Program of some sort. These positions are a bit more rare than something like an iOS Engineer, as everyone needs an iOS Engineer. However, not every company has an established Developer Program, or needs a Community Manager to run it. This means I am searching over the hill as well. I've found that in the Santa Cruz tech scene, the pay is less than you can typically find in Silicon Valley. (We all know that already.) Sometimes the pay is as much as $50K a year lower here than in Silicon Valley. We all take jobs for many reasons besides money, I understand this. It can even be argued that having the privilege of both working and living in Santa Cruz County without having to commute an hour each way and drive that awful hill everyday is worth more than $50K. However, for me at this time, this is not an option and I need the higher pay found in The Valley.  So, yes, I am most assuredly looking over the hill as well as here in the county.
SCTB: Your list is a good resource and I look forward to finding out if job hunters (or hiring managers) contact you to add to it. Hey, let me know when you find your job. And, hopefully, you'll keep updating the list after that.
(I've also added the the list Santa Cruz Tech Beat's Resources page.)
###
Greg Rose is an experienced Marketing and Community Manager within the software and hardware Developer Communities and has spent the last year deeply immersed in the IoT and Wearables developer ecosystem. He's currently open to new opportunities. Contact him at https://www.linkedin.com/in/gregrose or greg.c.rose@gmail.com.
###
If you wish to republish this article, please follow our Terms of Use.
###