Companies
How to Make Your Sales Process Snapi

By Dave Wilson
CEO, Biznet3 Solutions, Snapi.io
Special to Santa Cruz Tech Beat
December 3, 2015 — Santa Cruz, CA
Snapi.io is a new Sales System that is being released out of our startup Biznet3, located at NextSpace in Santa Cruz. It consists of a low cost Sales Productivity system (Account, Contact, Tasks and Notes Management, with lots of personal productivity features), a Business Edition (Leads, Opportunities, etc, with Advanced Search, reports and charts) and an Enterprise Edition, which adds Projects, Campaigns, Teams (including Partner Management) and API functions. You can also get two add-on modules: (1) a Marketing Automation module for email marketing that can be added to any of the Sales Editions, and (2) a Sales Process module that can be added to the Enterprise Edition. Snapi starts at $5 a user per month.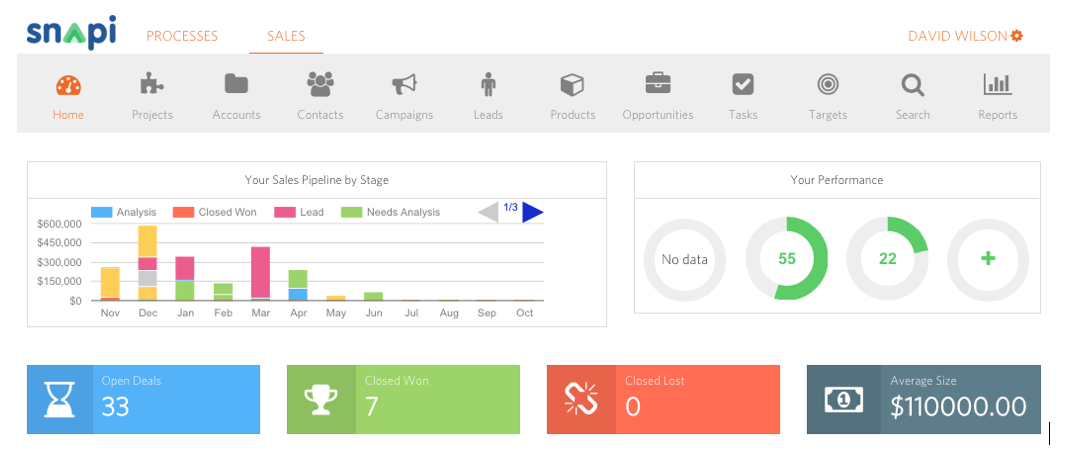 For the technically minded, Snapi was developed in Python, plus Javascript, etc., using the multi-tenant version of PostGresSQL, running on Amazon AWS RDS. It was written API first, which is part of the reason we called it snapi.io. The API is connected to Zapier.com so that you can connect any of the end points to close to 500 other web apps using the zapier system. You can connect your Sales System to almost anything!
So what is different about Snapi?
Snapi has the same ingredients as most other CRMs, however it's more modern. It is modular so that a small company can just use it for basic customer management and plug in email marketing, and it won't cost you an arm and a leg. However, there are a couple of aspects of Snapi that are unique and important.
The system has been developed out of some frustration with Sales Systems. The main use of  a CRM seems to be basic Sales Management and Forecasting. Lots of sales reps don't like them because they are used to beat the rep up — so the reps misuse them. They sandbag. The system is just not useful to sales reps. I was the founder of the Identity Management Business unit at Dell Software and struggled with getting all reps to sell all products. Reps self-specialize in one or two products and the only way management could change this was to vary commission levels, which had almost no effect. The recent split of HP into a hardware and a software business is basically the same thing, i.e. that you cannot get a hardware rep to sell solutions. However, this is just not true. What IS true is that you need a proper Sales Process, and that is what Snapi has provided! We've created a set of tools so you can make your Sales System actually useful for a rep.
Making a Sales System that is useful for the Sales Rep
What are those 10-12 vital questions your rep should ask and how would you score them? That's it. Each Product, Sales or Marketing manager creates the questions. The rep sits with their customer as an Account quarterback and asks the questions about a product the rep hardly understands, but the rep knows their account, and can say — quite honestly — if this scores 20%, I will not waste your time, however, if this scores 70%, then I will bring in a specialist. This is a straightforward process that ALL organizations should follow in all industries, including Finance, Pharma, Manufacturing.
Good selling is about asking the right questions and following a process that works for your business. If you are trying to sell your product when you shouldn't, you waste money. If you are NOT selling when you should be, you miss the chance to make money.
With Snapi, you can use the Sales Process System as part of the Snapi Sales System (CRM). You can "snap" it into Salesforce, so that the biggest of companies, including HP and Dell, can use the system.
"Sales Processes" can span your own sales methodology — SCOTSMAN, Sandler, etc — or for Campaigns, Products, Projects and Account Management. We believe that this kind of self discipline applies to ALL business big and small, and that is one of the reason for the pricing policy. You don't have to be HP to buy this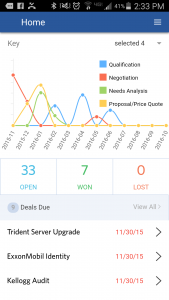 product.
And, Snapi is mobile-friendly, so you can use it on your phone.
The Santa Cruz effect on Snapi
Our team is an eclectic mix. Eric Ressler's Design by Cosmic created a lot of the design basics; Tim Handley brings his Marketing Automation experience; Tim Johnson his Marketing AND Sales skills. Al Morgan of Porter Consulting brought enormous experience of how to apply Sales Process, Direct AND Indirect Sales, to companies like HP, Vmware, Red Hat, etc., and is now a committed partner and user of the system. The developers are from all over the world, and include people I've worked with for years.
The next step
The product is ready and we're looking for further investment to broaden the base of local employees. We are also very keen to team up with sales consultancies, including Salesforce specialists. We believe the nature of the system offers a great chance to go beyond normal sales consultancy towards helping deliver on real business transformation.
If you want to know more then contact Dave Wilson, the CEO at dave.wilson@snapi.io.
###
Dave Wilson has launched two previous startups. The first, in the UK, was acquired by Mysys, and the second by Quest Software, where he stayed to establish the Identity Management business unit that is now part of Dell Software. Wilson came to Santa Cruz in 2000, via South Africa, to run Strategic Alliances for SCO, just 2 weeks before they were acquired by Caldera. Previously Dave held positions at Sun, HP and Honeywell.
###
If you wish to republish this article, please follow our Terms of Use.
###