Companies
Q&A: Catching Up with Tom Padula, Announcing Solar Rail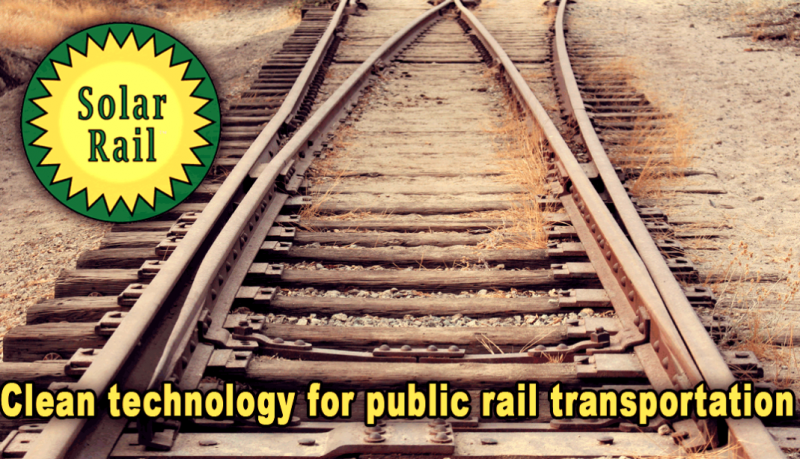 By Sara Isenberg
Founder, Publisher, Editor-in-Chief, Santa Cruz Tech Beat
October 15, 2015 — Santa Cruz, CA
Tom Padula, entrepreneur and active member of the local tech scene, recently sent me a tip that he had some news to share. This gave us the opportunity to catch up.
SCTB: You've worked on a number of ventures in the past, what are you working on now?
TP: Solar Rail is a new venture looking into the future of recreational passenger rail service here in Santa Cruz County. We have a vision for modest-sized, battery powered electric rail vehicles that will recharge through inductive power transfer at each boarding stop. Ultimately, the entire system will be powered by industrial-scale solar. We have recently signed a letter of interest with Roaring Camp Railroads as a host for our work facilities and testing, and are in talks with other rail transportation companies and technology providers.
As an example of this kind of technology, currently there is an inductively-charged electric bus in service in Monterey as part of Monterey/Salinas Transit system. Not only has this system demonstrated an effective combination of technology for road use, it's efficiency has been better than expected. Picture a number of similar but somewhat smaller vehicles on the rails for passenger service, with power provided by a solar plant, and you have a good idea of one of our near-term goals.
SCTB: Tell us more about Solar Rail. Who else is on your team?
TP: While we are focused on developing clean energy transportation, we are really more of a technology integration company. We intend to use as much in the way of existing, proven tech as we can in order to avoid reinventing the wheel. Using commercial battery, inductive charging, autonomous vehicle, and solar plant technology and combining that with existing infrastructure (i.e., ordinary rail lines) the company plans to be both clean and cost effective. Our goal is to deliver a vetted package of passenger rail technology and equipment in order to provide rail transportation looking forward through the next fifty years.
Our team consists of Autumn Cardone, Colin Young,  G Stearns, and me. Other than Roaring Camp, we are partnered with the Global Solar Transportation Group, Brand Monterey Bay, and Stearns and More Capital (that is, G Stearns).
SCTB: What are the biggest challenges to getting Solar Rail off the ground?
TP: One big challenge is coordination among many different groups, governments, agencies, and corporations. All have an interest in passenger rail. Pulling this off will require a high level of cooperation and attention to a common goal — clean, efficient passenger transportation. Another major challenge is at the core of our company — combining a number of existing technologies in order to provide a complete solution with the lowest amount of development risk. That is, we specifically are avoiding trying to develop extraordinary technology.
SCTB: What is your funding model going forward?
TP: Initially we are of course self funded. We are not necessarily expecting to go the typical angel/VC route as we plan to create technological solutions for other corporations to utilize. We realize that the unusual nature of this project will require us to explore a variety of funding sources, a map which will likely change as we develop, integrate, and demonstrate our technology.
SCTB: What are some of the projects you've worked on in the past?
Prior to getting so deeply involved in tech in Santa Cruz, I had a long career over the hill. I was an engineer for a number of companies (Digidesign, Silicon Graphics, Opcode Systems, and Apple) and hold five patents. I specialize in real time software and systems, such as the ProTools TDM system and ProControl surface for Digidesign, 3D audio localization for SGI, and Vision DSP for Opcode. At Apple, I was an early member of the iMovie team, went on to work on Soundtrack Pro, Garage Band, and Final Cut Pro, and also was a member of the original iPad team. Since leaving the valley, I founded Humble Earth, creators of solar-powered electronic fireflies for your garden (working on a fourth generation product now) and iOS software (Temperaments, an application for learning about music tuning systems).
SCTB: You've been involved in the local tech community for many years. Tell us more…
TP: In addition to being one of the presenters of the New Tech Meetup and taking part in last year's TechRaising, Autumn Cardone and I were early investors in MakersFactory, Cruzioworks members, and members of the MAH. I lend my abilities to various local groups to help develop local tech, such as at the drone conference last May, presentations by Bookshop Santa Cruz, an upcoming presentation by The Inspiring Enterprise, and technical help at the MAH. Autumn Cardone and I have been shareholders at Roaring Camp Railroads for many years and I have contributed my audio knowledge to revitalizing the audio system on the narrow-gauge steam trains.
You can follow Roaring Camp Solar Recreational Rail & Sustainable Showcase on Facebook.
###
If you wish to republish this article, please follow our Terms of Use.
###
Tagged Solar Rail