Companies
Ten Things You Didn't Know Were Invented in Santa Cruz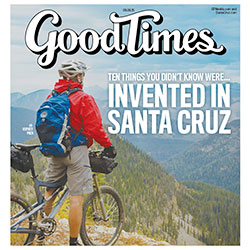 By Brad Kava
Good Times
September 9, 2015 — Santa Cruz, CA
10 Santa Cruz inventions that spread all over—and even changed—the world
When it comes to innovations that have changed the world, Santa Cruz gets sold short. Silicon Valley gets all the hype for being at the cutting edge of technology—but next time you take a selfie, hear a bad singer sound good, use a wireless headset, or stand in front of a baseball pitching machine, you should think about our side of the hill. Here are 10 things you might not know were invented here.
1. The Cell Phone Camera
Last week, Santa Cruz inventor Philippe Kahn had good reason to reflect back 18 years to the first time anyone shot a picture and sent it out to the world via cell phone.
His daughter Sophie is now starting college at NYU, and while he was dropping her off, he says, it hit him how much had happened since she was born. She had been the subject of the first camera phone photo, taken on June 11, 1997. The idea came when he was sitting at Santa Cruz's Sutter Maternity and Surgery Center waiting for his wife to give labor: He wanted to send the first baby photo of Sophie to his friends and family from his cell phone.
During his wife Sonia Lee's 18-hour labor, Kahn thought about how clumsy it would be to take a photo and upload it to his laptop to send out. Plus, he needed something to do.
After a couple of trips to Radio Shack for soldering wire, he linked his Casio QV-10 point-and-shoot camera to his Motorola Startac phone, wrote some code, and voila!
"The vision was 'point, shoot and share instantly,'" the 63-year-old Kahn tells Good Times. "That vision gave birth to citizen journalism, telemedicine in practical ways, and more generally letting Ms. and Mr. Everyone take and share more pictures than ever before. That's a game-changer."
Kahn, a French immigrant with degrees in music (as a classical flautist) and math, showed up in Silicon Valley on a tourist visa and wanted to stay. He knew no one here and didn't have a Green Card, but ended up getting a job making printer cables. He was making a different kind of connection, too—with tech power players, and it led to his co-founding of the software company Borland International in Scotts Valley in 1983. He went through ups and downs, including getting forced out of the company he founded in 1995 after an economic downturn.
But Kahn's entrepreneurial spirit wouldn't quit. After the cell phone camera, he started Fullpower Technologies, which focuses on health apps for beds and watches. His devices tell how well and how long you slept and how much exercise you are getting. He has 75 people working for him in downtown Santa Cruz, and pays more than $25,000 a month for the county's only billboard, on Highway 17, advertising to hire more engineers.
A world-class sailor, Kahn has crossed the Pacific 10 times, and started the Pegasus Racing team. It was those long trips that inspired the Fullpower invention, as a way to monitor sleep during grueling trips. The monitors use technology that tracks micro-movements to see how fitful sleep is.
So why has he stayed in Santa Cruz all these years?
"The first time I experienced the Monterey Bay in Santa Cruz, I decided that Santa Cruz has it all: surfing waves, sailing wind, mountain-biking trails," Kahn says. "What an ideal playground to create new technology with like-minded passionate engineers."
2. Auto-Tune
Depending on who you ask, music was either saved or destroyed by a man who first made his fortune listening to the sounds of the Earth to find oil.
After getting his degree in electrical engineering from the University of Illinois in 1976, Harold (Andy) Hildebrand started his career at Exxon doing seismic research to look for fossil fuel. In 1979, he started his own company, which turned sound pumped underground into 3D oil maps. The technology involved blasting an explosive charge, and tracking the sound that came back.
A concert flautist since he was 16, Hildebrand went back to music in 1989 to try something new. He was studying sound engineering when a woman at a trade show dinner asked him to make her a box that allowed her to sing in tune.
"Everyone looked down at their plates," says Hildebrand, 68, from his home in Felton. "I thought it was a lousy idea. But toward the end of the year, I was looking for something else to do and I spent months developing it. I brought it to the same trade show."
The box, called Auto-Tune, enabled off-pitch digital signals to move to the right pitch. Studio engineers had been doing it for years with primitive technologies that took a long time to work. Hildebrand's invention did it instantly, but for years no one wanted to admit to using it.
Then came Cher's 1998 song "Believe," which not only put her in tune, but used a "zero-function" setting that created a machine-like pitch. The resulting effect was a sensation, but the single's producer, Mark Turner, didn't admit it had been created by Auto-Tune, and instead claimed that he had used a vocoder. Several subsequent artists who independently discovered how it was done kept up the vocoder facade, which allowed the technique to retain its mystique into the 21st century. By the time artists like T-Pain were basing their entire careers on it, though, the secret was out.
"I put that setting in as a joke," Hildebrand says of the now-infamous effect. "Who would ever put it to zero?"
As a music lover, he shares the same concerns as many critics of his invention.
"An artist, a trained musician, knows it's being used in every song because no one can humanly sing that well," he says. "Some use it artistically, but others just use it everywhere and it gets kind of boring. I explain to people that I just build the car. I don't drive it on the wrong side of the freeway."
When asked whether Auto-Tune is cheating, he says "there's a grain of truth in that."
"On the other hand," he says, "they are using reverb, microphones and other technologies to improve the sound. My wife uses make-up. Is that cheating?"
In January, Hildebrand was at the NAMM music distributors trade show in Anaheim displaying his latest product, Auto-Tune for guitar. He hasn't had to work for decades, but continues to because he loves it, even though it can be tedious—he wrote more than 300,000 lines of code for the guitar Auto-Tune.
"Try doing that over three years," he says. His business is based in Scotts Valley, and he lives in Felton, because "any town where you can raise chickens is a good town to live in."
3. Lightweight Communication Headsets
We've all heard about the technology created in garages over the hill, but odds are good you have used a product created out of a Santa Cruz garage.
In 1961, two pilots unhappy with bulky, uncomfortable headsets that were the industry standard created a new lightweight design that has set a distance record–Plantronics headsets went to the moon, and were the conveyer of Neil Armstrong's famous first words.
Originally called Pacific Plantronics, the company started by Courtney Graham and Keith Larkin still has a state-of-the art headquarters in Harvey West Park, complete with a gourmet lunchroom, homegrown vegetables, eco-friendly energy and gadgets galore. In 1962, astronaut Wally Schirra wore a Plantronics headset under his helmet during his six laps orbiting the Earth. In 1963, the FAA approved their headsets for air traffic controllers. In 1967, the company sold 100,000 headsets, bringing in $5.4 million. It became the dominant headset maker for telephone and emergency operators.
Today, the company's wireless office headsets and Bluetooth earpieces are ubiquitous. It has 3,000 employees worldwide and brought in revenue of $818 million last year.
Continue reading article here: http://www.gtweekly.com/index.php/santa-cruz-news/good-times-cover-stories/6874-our-big-ideas.html
###