Companies
Temperaments — Tom Padula's Backstory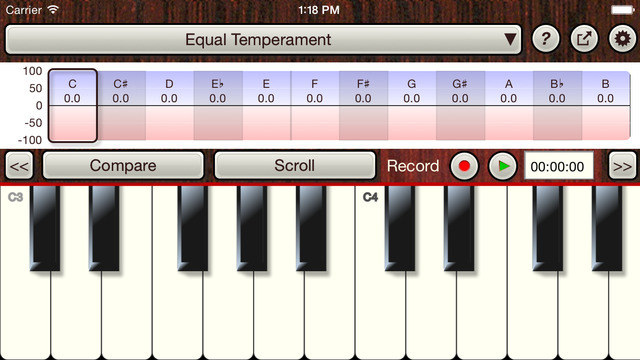 by Tom Padula
CTO, Humble Earth Productions, Inc.
July 9, 2015 — Ben Lomond, CA
The story behind the story
Last week, I was thrilled to be able to announce a new musical app in the iOS store: Temperaments. Designed and coded right here in Santa Cruz County, the app offers a new educational angle on an old musical principle.
Musical tunings throughout history
But first, a bit of backstory: A year and half ago, I was planning to teach a class on musical tunings and temperaments as used throughout history. A temperament is a way of tuning a musical scale – today we use a tuning known as Equal Temperament, though up through the time of Bach or thereabouts, many other tunings were used. The music of the time sounds different when performed in its original temperament rather than Equal Temperament.
I was hoping to find a tool which could help in the class, allowing demonstration of various temperaments as well as a way to instantly compare them with modern Equal Temperament. A few musical keyboards have this ability, but it is typically buried under layers of menus and is error-prone to find and use. Given my history of writing music apps for Mac and iOS, it seemed like it would be a fun project to put together an app to help with this.
The result was a somewhat simple but functional app which worked well for the class. Some students were interested in having a version of it for themselves, and some other music teachers expressed interest in it as well, so the decision was made to polish it up, add some features to make it especially useful to both performing musicians as well as academics, and release a professional quality app. The result is Temperaments.
Community influence (it takes a village)
The app came together with the influence of many here in the community. The other workers at Cruzioworks generously attended a number of user-experience sessions for the app and offered plenty of useful insights and suggestions. A friend who was visiting is a UX designer and gave his guidance on the flow of the app and how the user would expect to interact with it. And, my CEO at Humble Earth (and wife) Autumn Cardone has a history of digital art and provided the design language of the interface to give it a real-world 'feel'. Naturally, plenty of locals were involved in the beta testing phase, too.
Reality check from non-musicians
Throughout the process, the non-musicians were always a source of clarity with regards to the useability of Temperaments. They would provide valuable reality checks, since as a musician and coder it was too easy for me to miss seeing the forest for all the trees.
All of this input was invaluable, as even though I have shipped dozens of audio and video apps on many platforms, I am an audio and real-time systems coder, not a UI person. With the help of all these local people (and a lot of studying of iOS UI coding standards), Temperaments came together beautifully.
The challenge of backward compatibility
One other challenge, besides putting together the UI, is that many schools and students still use first-generation iPads. Apple stopped updating the OS for these iPads at iOS 5.1, and so one of the design goals of Temperaments was that it be able to run on these devices. Creating an app that can run on four versions of iOS took a lot of careful design considerations, but I am proud to say that the users of the oldest devices do not lose out on any functionality of the app and at the same time it looks great on modern, multi-core devices with Retina displays. Also, while Apple has yet to release iOS 9 to the world, the app has been tested on it and an upcoming update will ensure that Temperaments is ready when Apple releases iOS 9.
Temperaments can record from the built-in keyboard or an external MIDI keyboard. It can also process MIDI in real time, so that synthesizer owners can use it to retune MIDI on the fly, playing any patch. It can apply a temperament to an existing MIDI file, and can export MIDI files via email, Dropbox, or Facebook.
Temperaments runs on all iPads, iPhones, and iPod Touches running iOS 5.1 or later. It's available now on the iTunes store.
And, as mentioned last week in Santa Cruz Tech Beat, a free version is planned to be released soon.
##