Companies
Santa Cruz Bikes: SOLD!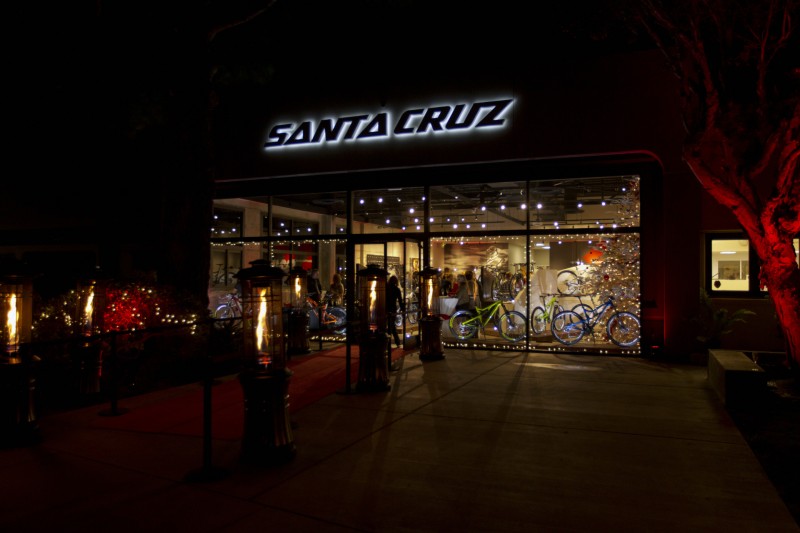 By Pete Roggeman
NSMB.com
(Photo above: It's Christmas in July for Santa Cruz founders Rob Roskopp and Rich Novak. Photo credit: Gary Perkin)
Bicycle News is Tech News in Santa Cruz
July 9, 2015 — Santa Cruz, CA
Every now and then the first email you open sets the tone for the day, which is what happened this morning (July 3): "Santa Cruz sold to Dutch Holding Company". It was a subject line only 'nm' mail: no message, no details.
So I thought it was a joke, albeit a weird one. And a bit cruel. Would Roskopp really sell the iconic bike brand he co-founded in 1993 with Rich Novak? The Santa Cruz that has gone from boutique brand to über boutique brand? Is nothing sacred?
Well, the news is true. However we have a bit of an aversion to regurgitating press releases around here, so I dug around to get a bit more detail and collared Will Ockelton, Santa Cruz's Marketing Director. He confirmed that yes, it is official, and yes, it truly is going to be business as usual as they move forward. So, what's the deal with the sale? Is this just a case of Roskopp and Novak cashing in?
Thankfully, no (although you can bet it was a hell of a payday for those two). Santa Cruz has fielded purchase offers for years, but none were the right fit. Pon Holdings (the buyer) has a history of holding and building brands, they don't target companies for re-organization and resale. Ockelton continued by addressing what Pon can do for Santa Cruz: "we were in a cannery three years ago, the recent move and expansion was already a big undertaking for us. Pon adds a lot of logistical power but things like assembly will remain in Santa Cruz".
Continue reading article here: http://nsmb.com/santa-cruz-bikes-sold/
###