Events
Santa Cruz Freelancers: Building a Thriving Local Community From the Ground Up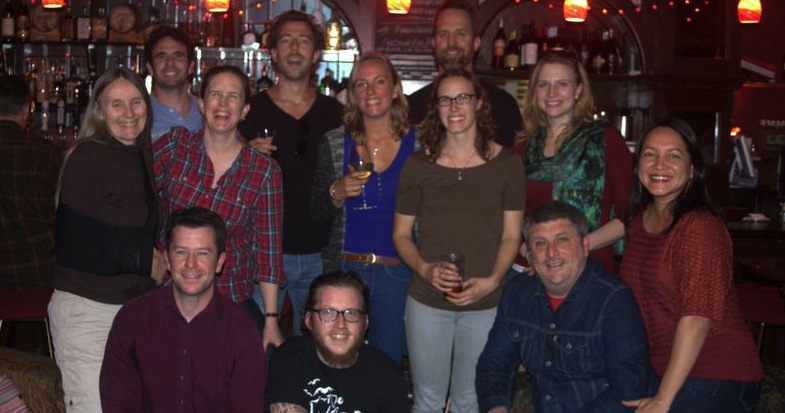 By Cat Johnson
thefreelancecat.com
@catjohnson
(Image above: Members of Santa Cruz Freelancers at the inaugural happy hour at the Red Restaurant and Bar. Photo credit: Brian Crabtree.)
June 12, 2015 — Santa Cruz, CA
What would you like to see from Santa Cruz Freelancers? Make it happen!
Next Santa Cruz Freelancers Event:
Thursday, June 18, 5:30pm
Red Bar and Restaurant, 200 Locust St., Santa Cruz, CA
Freelancers currently make up 34% of the U.S. workforce. By 2020, that number is expected to hit a mind-boggling 50%.
Santa Cruz is already rich with freelance designers, developers, consultants, writers and more. Santa Cruz Freelancers, a new grassroots community, was created to bring together local freelancers, independent workers, solopreneurs and the freelance-curious for mutual support, collaboration, learning and fun.
The vision for our group is to create a vibrant, well-connected community of freelancers to help each other thrive in the freelance economy. Through skillshares, presentations, discussions, work sprints, networking events, gatherings and more, we can grow our collective network and our freelance careers.
Still in the early stages, Santa Cruz Freelancers has already had a happy hour, a Freelance Legalities Q&A with local attorneys Patrick Reilly and Ian J. Stock, and a Freelancers Roundtable where we discussed a variety of topics including work-life balance, developing products, the unique challenges we face, and positioning ourselves in the growing freelance economy.
To get involved, join the Santa Cruz Freelancers Facebook group, follow us on Twitter, and come to our upcoming happy hour on Thursday, June 18 at the Red Bar and Restaurant at 5:30 p.m.
If you have an idea for an event, presentation or gathering, propose it to the Facebook group. We're a community that depends on everyone bringing good ideas, projects and energy to the table.
If you have skills, time or resources to spare, we could use help with a better website (we currently have a starter website) and hosting, a logo for our group, help with social media updates, or anything else you want to contribute.
What would you like to see from Santa Cruz Freelancers? Make it happen! Help us build a strong, diverse, awesome community for freelancers in Santa Cruz.
###