Companies
InterWorking Labs at DARPA Robotics Challenge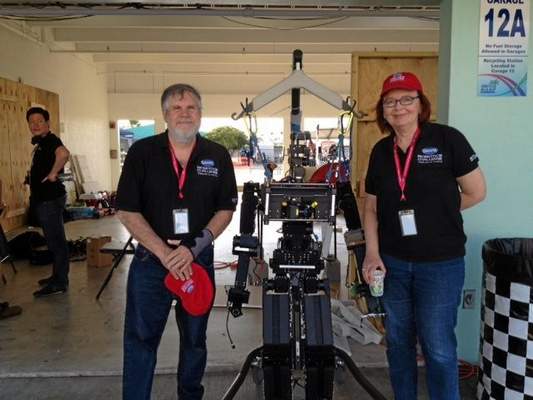 By Jondi Gumz
Santa Cruz Sentinel
(Image above: Chris Wellens, right, founder of InterWorking Labs, Scotts Valley, with Karl Auerbach, get up close with a robot built for a earlier trial in the DARPA Robotics Challenge. Source: Sentinel)
[Editor's note: Listen to NPR's story At DARPA Challenge, Robots (Slowly) Move Toward Better Disaster Recovery.]
June 5, 2015 — Scotts Valley, CA
A Scotts Valley tech company is playing a part in the Defense Advanced Research Projects Agency Robotics Challenge, an international competition for 25 teams with the goal to improve disaster response.
InterWorking Labs, which has a mission of averting network failure, is part of the team creating the infrastructure for the competition.
"Our role and our focus is on emulating the network blackout conditions," said Chris Wellens, founder, president and chief executive officer of InterWorking Labs.
She and chief technical officer Karl Auerbach are in Pomona prepping for the event, which runs Friday and Saturday, offering $3.5 million in prizes.
The Defense Advanced Research Projects Agency developed the contest in 2012 to see how robots might be used as "first responders" in a disaster — think of the 1989 Loma Prieta earthquake, the collapse of the World Trade Center in 2001 or the explosion at the Fukushima nuclear power plant in Japan in 2011.
The question was: Could robots take the place of humans, entering partially collapsed buildings, putting out fires and turning valves on or off?
During the competition at the Fairplex Fairgrounds, robots will have one 60-minute attempt each day to complete eight tasks and score points. Teams come from institutions like MIT, Carnegie Mellon, Virginia Tech and the Jet Propulsion Lab and from Germany, Italy, South Korea, Japan and Hong Kong.
Continue reading article here: http://www.santacruzsentinel.com/business/20150602/interworking-labs-of-scotts-valley-at-darpa-robotics-challenge
###
Tagged InterWorking Labs