Companies
Ford Enters the Smart Home Market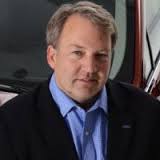 By Maxine Bingham
Editor-in-Chief, IoT Perspectives
Special to Santa Cruz Tech Beat
(Photo above: Mike Tinskey, Director, Global Vehicle Electrification and Infrastructure, Ford Motor Company.)
May 28, 2015 – Santa Cruz, CA
We live in what is supposed to be an energy saving home here in Santa Cruz, but, and, despite being careful (we have a nifty Internet of Things device – the Nest thermostat), our energy bill is still too high. Thus, it was with some surprise that I learned during CONNECTIONS that Ford Motor Company has entered the home automation space with MyEnergi Lifestyle. Director, Global Vehicle Electrification and Infrastructure Mike Tinskey gave me a comprehensive overview of this new industry collaboration to help people optimize home energy use.
Mike leads the company's sustainability activities for electric vehicles, energy and infrastructure. His focus is to develop and implement new products, business models, and partnerships to ensure success of Ford's sustainability plans globally, including success of Ford plug-in and alternative fuel vehicles. Prior to this role, he led the Product Planning and Program Management activities globally for hybrid electric vehicles and was responsible for developing and implementing Ford's electrification strategy that was announced in January 2009. Mike holds multiple global patents in vehicle control systems.
MB: Please describe Ford's new home automation energy savings solution.
MT: MyEnergi Lifestyle is a Ford-led collaboration with Nest, Eaton, SunPower, Whirlpool and Infineon, designed to help consumers optimize energy use and reduce CO2 emissions in a home setting. Through this initiative, Ford brought together leaders in home appliances, renewable energy and power management industries, with the goal of helping consumers easily switch a bulk of their energy use to off-peak hours through cloud-based automation, vastly decreasing energy costs and the stress on the grid in the process.
MB: Is MyEnergi Lifestyle new for Ford? When was it introduced?
MT: MyEnergi Lifestyle was originally introduced in 2013, and we released MyEnergi Lifestyle 2.0 in January 2014. MyEnergi Lifestyle 2.0 builds on the first iteration of this program by introducing the ability to store energy within the home after it is captured by solar panels, increasing savings even further.
MB: What is the cost?
MT: As MyEnergi Lifestyle represents a collaboration of multiple companies, there is no set cost for implementing the energy-saving devices around the home, as it depends on which appliances a customer chooses to install. However, the cost savings are more easily quantifiable, and the MyEnergi Lifestyle model predicts a 60 percent savings in monthly energy bills, and 55 percent savings in CO2 emissions – with MyEnergi Lifestyle 2.0 storage, our models show a further increase in savings by 30 percent. This model was developed by the Georgia Institute of Technology.
To give you an example of an itemized breakdown of savings, the Berry family, one of our initial MyEnergi Lifestyle users, reaped the following savings:
More than $1,200 saved in annual fuel costs with the Ford C-MAX Energi
Expect to save more than $300 annually from new solar panel system; the system offsets more than 70 percent of the energy used in their home
More than 25 percent reduction in energy costs and CO2 by installing a new energy-efficient Whirlpool refrigerator
MB: Will Ford be the distributor? If not, how can one acquire it?
MT: Ford is the owner of the nationwide database of time-of use rates that allow the independent cloud systems to operate. For example, the Whirlpool appliances can leverage this database to begin making ice or washing the dishes once rates drop to off-peak.
Ford dealers distribute our electrified vehicles, and the rest of the affiliated appliances can be purchased directly from our MyEnergi Lifestyle partners.
MB: Why is Ford getting into the home automation market?
MT: For years, we've been proactively exploring how to work with utilities to provide incentives for EV drivers to charge during off-peak hours, to help balance out the grid. These explorations led us to develop the time-of-use database. Once we did, we realized there were plenty of applications beyond the automotive industry alone, and we began looking for partners to launch a broader program focused on smart energy consumption. Through MyEnergi Lifestyle, we have come to believe that we need to move beyond putting more cars on the road to participate in the broader connectivity ecosystem, which increasingly involves home automation.
MB: Will this connect one's car with the home (i.e., open the garage, turn on lights, turn off alarm, etc.)?
MT: MyEnergi Lifestyle essentially allows all smart appliances (washer, refrigerator, electric vehicles, solar panels, dishwasher, etc.) to connect to their utility's TOU rate structure. The beauty of this system is that you don't need to own every part of it to make it work. Each appliance connects to its own cloud.
More specifically, our collaboration with Nest is a useful case study for this type of connectivity. We're working with the Nest API to create a more seamless connection between the car and the home. For example, when a driver leaves a geo-fenced area around the home, his or her vehicle can provide the Nest Thermostat with another node of information to switch to Auto-Away mode. Similarly, when a user returns, the vehicle notifies the thermostat to set the preferred at-home temperature. The result is smarter, more automated energy and less unnecessary waste. Our collaboration with Nest can also help users monitor the safety of their homes remotely. For example, if carbon monoxide or smoke detector is set off, Nest Protect can send an alert to Ford's in-vehicle SYNC system, prompting drivers to dial 9-1-1 or call a loved one – without ever needing to touch their cell phone.
MB: Is this a first in the industry?
MT: Yes, this sort of cross-industry collaboration is a first. There are other auto manufacturer and solar panel company partnerships, but MyEnergi Lifestyle is the broadest and most inclusive program of its kind.
MB: Is MyEnergi Lifestyle an open system? Can developers develop apps for it? If yes, is there a link to a developer application/community page?
MT: We are currently just working with a smaller group of partners to integrate their home and vehicle technologies, but that doesn't mean there won't be opportunities for other manufactures or developers to join in down the line.
MB: How would these apps (assuming there are apps) be available? Would Ford take a percentage?
MT: The apps that leverage the MyEnergi Lifestyle database are offered by each manufacturer separately. For example, Ford offers the MyFord Mobile app, which allows customers to sync their EV charging with their TOU rate, while SunPower offers a solar app and Whirlpool offers an app to sync smart appliances. All of these apps use Ford's database, but Ford does not take a percentage, in fact, all of these apps are free to download.
MB: What new services is MyEnergi Lifestyle enabling for Ford?
MT: For our direct customers, MyEnergi Lifestyle enables Ford to provide a value-added service by providing EV drivers with the information and tools they need to charge their cars during off-peak hours. More broadly, MyEnergi Lifestyle is enabling Ford to become a leader in promoting holistic energy savings.
MB: Does MyEnergi Lifestyle use WiFi, Bluetooth, Zigbee or even SIGFOX as the communication protocol?
MT: MyEnergi Lifestyle mainly leverages a home's WiFi to connect to its devices and begin the specified process at the time requested, for example, starting the dishwasher).
MB: What is the long-term vision for MyEnergi Lifestyle?
MT: Our long-term vision for MyEnergi Lifestyle is to drive more homeowners to become more energy efficient by adopting EVs, generating their own renewable energy and leveraging connected devices. As EV purchases continue to increase in the coming years, programs such as MyEnergi Lifestyle will help people achieve zero energy homes and even zero energy cars, charged with solar power.
With Ford backing this kind of home energy savings solution, it's just a matter of time, I think, until all our homes and apartments come with such services automatically, whether from Ford and its partners or other companies.
###