Companies
uSPORT in Private Beta for Hockey, More to Follow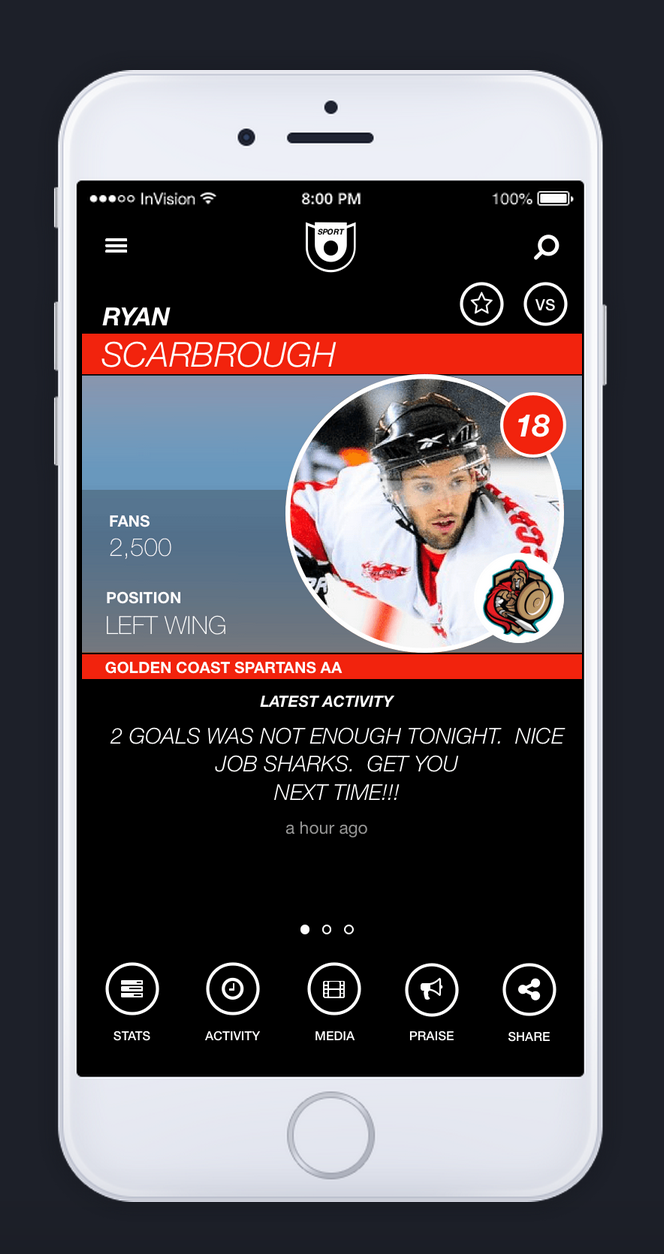 By Ryan Lowe
Founder, uSPORT
(Above: uSPORT has taken the traditional baseball card and given it a 2015 facelift. Everything a coach or fan wants to know about an athlete is on this card, including video, stats, recommendations, photos, and the athlete's recent activity.)
May 14, 2015 — Santa Cruz, CA
Every Athlete Deserves A Spotlight
Professional sports are awesome to watch. Under blinding lights, in front of massive crowds, heroes pull off the
impossible, game after game, their stories constantly being re-written with every score, big hit, or save.
But what about the countless other stories that unfold every day in sports, on fields, courts and rinks all over the world. The high school buzzer beater, the little league home run, the incredible last second goal in the state championship adult hockey tournament. How will these stories be told? How will these non-professional sports heroes be remembered?
This is why uSPORT exists. To give any athlete, at any level of sport, a spotlight through which to not only remember their performances, but to share these hero moments with coaches, fans and other players in a fun, fast, and great looking way.
I have played ice hockey since I was 5 years old, beginning in rec leagues, then on to high school, and then college hockey for San Jose State University. Later was semi-pro in the United States and Australia, and lastly, one game as a backup goaltender for the San Jose Sharks.
As I advanced in my playing career, playing on many different teams, at many different levels, I constantly had to tell Coaches who "Ryan, the hockey player" was and how I could help their teams. To do this, I had to use a variety of different tools crudely pieced together, to successfully keep track of and share my sports story:
A resume in Microsoft Word, a stat sheet in Excel, a highlight video on Youtube, letters written by coaches I played for, and against, and a contact list hundreds of names long. I was using way too many mediums (not built for sports) to do just one thing, tell my sports story.
uSPORT is the one place for any athlete to keep and share their sports story with people important to them.
Doug Erickson, my co-founder and Santa Cruz New Tech Meetup leader loves sports. His teenage son, and budding basketball star, Neil, might love them more. Doug and I met and worked together in software sales before deciding to take "The Leap" and create uSPORT.
When launching this vision, basing uSPORT in Santa Cruz just made sense. Don't let the city's laid-back reputation fool you, "Surf City" is home to countless adrenaline packed sporting events and world-class athletes. From surf competitions, to devout cycling and mountain bike followings, an NBA development team in the SC Warriors, some of the state's finest golf, and multiple triathlons, sport is thriving on the coast and we can't wait to be a part of it.
Besides our local team, we have remote uSPORT team members in San Clemente, Boston, Boulder and Ottawa, all working hard to create a platform worthy of the effort athletes put into their sports to life.
On the tech side, we are building uSPORT in Meteor, a complete open-source platform for building web and mobile apps in pure JavaScript. Other tools we are using include Apache Cordova, mongoDB, and elasticsearch. We will introduce uSPORT on iOS initially, with a supporting web experience, and look to add an Android app later this year.
Baseball, Soccer, Basketball to follow
Currently uSPORT is in private Beta for Hockey. We are working to expand the app to Baseball, Soccer and Basketball as quickly as possible and will continuously introduce support for new sports in the future. If you would like to sign up to be one of the first to try uSPORT, visit uSPORT.co, enter your email address, and we will provide an invite as soon as we have more available. uSPORT is free to join.
###
Tagged uSPORT