Events
May festival to merge art and tech in downtown SC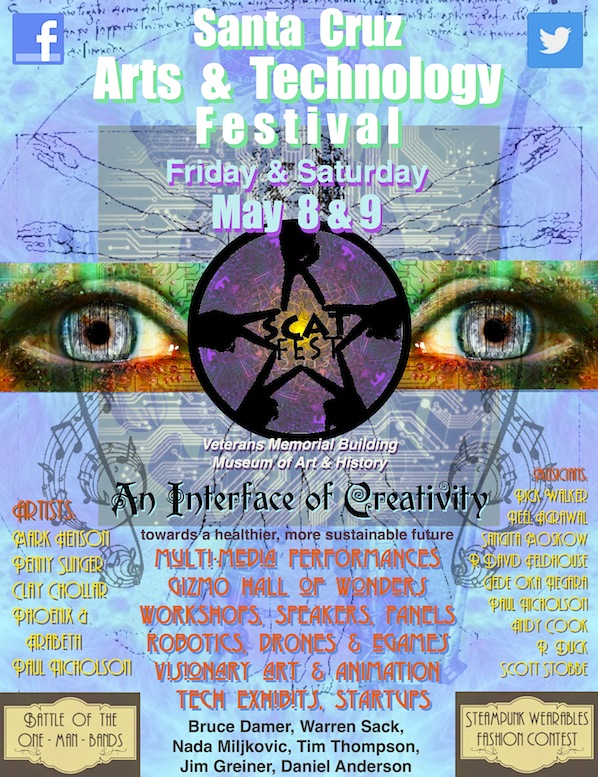 (contributed)
April 2, 2015 — Santa Cruz, CA
Santa Cruz Arts & Technology Festival (SCATfest.com) launches a new event May 8-9 in downtown Santa Cruz to explore the collaborative interaction of tools, toys and fun by the local arts and tech communities.
The brainchild of local multimedia artist Phoenix Dr Now, SCATfest's mission is to pair artistic inspirations for technology with tech tools for creative expression. Activities begin at 10:30 a.m. on Friday May 8 and Saturday May 9 at the Veterans Memorial Building and the Museum of Art & History (MAH).
The Santa Cruz arts community, six decades strong, ranks as the fifth highest in artistic density in the United States, just after New York City, Los Angeles, San Francisco and Santa Fe. The community is home to 500 tech companies and more than 20,000 tech industry workers.
Celebrating tech achievement and artistic fun, SCATfest will feature a Gizmo Hall of visionary displays from local companies and start ups that include inspirational art and light- art exhibits, robotic and drone demonstrations, electronic gaming and mobile app innovations.
The festival also offers Music & Tech and Arts & Tech workshops, a Creativity & Innovation panel discussion and a Women in Arts & Technology panel. MAH will serve as the venue for a digital video and animation exhibit and a sound-art exhibit.
Each evening an intriguing multimedia performance will grace the Veterans Memorial Building stage. Friday features "Hoopers and Loopers" and Saturday showcases "Speechless." Both shows gather an amazing array of talented local musicians, dancers and projection light artists. Also on tap is a Battle of the One-Man-Bands and a Steampunk & Wearables Fashion Contest.
SCATfest strives to connect local creators, makers and doers to exhibit, demonstrate and discuss concepts, methods and skills to build a healthier, more sustainable future. Exhibit booth space and promotional sponsorships are available on the festival website: www.scatfest.com.
###