Companies
HuffPo on Digital NEST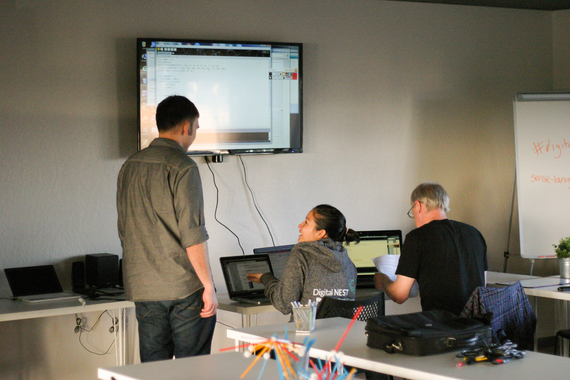 By Dieter Holger
Huffington Post
February 26, 2015 — Watsonville, CA
(Photo above: Digital NEST staff members prepare for a workshop. Credit: Angela Chilcott)
Nonprofit technology center is removing barriers that youth face on the pathways to their careers
It was a foggy day in Watsonville, a town on California's central coast known for its berry farms and predominantly Hispanic population. We followed directions to an unassuming brown office building, with a paper sign reading 'Digital NEST' hanging near the door. The atmosphere completely changed once we went up the stairs.
The second floor of the building felt like a nest with its hip green interior and modern lighting. Jacob Martinez, the founder and Executive Director of Digital NEST, gave us a warm welcome.
"We are already looking at getting a larger building." Martinez told me. Pretty crazy, since the center hasn't been open for half a year.
As we looked around Martinez reminisced on Telemundo's recent visit. I remarked that the project was certainly getting press, I had recently read about Martinez on TechCrunch's list '10 Men Making Waves For Women in Tech.'
Digital NEST is getting attention because they are tackling tech's demographic problem. Silicon Valley is reliant on imported tech workers, and only about 25 percent of people who work in tech are women. To top it off: minority groups — like Latinos — are disproportionately underrepresented. This is exactly what Digital NEST wants to fix, and why they are located in a farming town populated mostly by Latin Americans.
By bringing in local 15-to-24-year-olds, encouraging young women to join, providing a safe place, contemporary computers, software, and workshops, Digital NEST aims to change the face of technology. Martinez sums up Digital NEST as a "Technology center that is removing barriers that youth face on the pathways to their careers."
Continue reading article here: http://www.huffingtonpost.com/dieter-holger/nonprofit-brings-tech-to-_b_6689728.html