Companies
Capitola company pioneers firearm tracking technology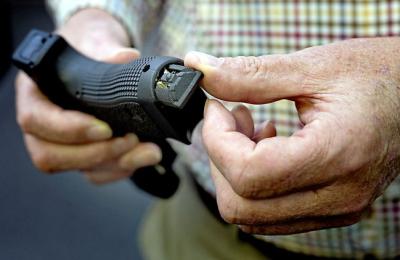 by Calvin Men
Santa Cruz Sentinel
(Photo above: Bob Stewart, CEO of Yardarm Technologies, inserts a computer chip used for tracking firearm activity into the grip of a glock air pistol at the Yardarm office in Capitola. (Photo Credit: Kevin Johnson)
In 1982, when Santa Cruz County Sheriff Phil Wowak started as a volunteer reserve officer in the Capitola Police Department, the most cutting edge technology were personal radios.
"As I came on the scene, officers were just getting into radios that were beyond the car," he said.
But 32 years after Wowak began his career in law enforcement, he's helping to test the next stage of law enforcement technology: guns that transmit real-time data.
The Sheriff's Office is partnering with Yardarm Technologies, a Capitola-based firearms technology company, to test microchips that could monitor when an officer draws a gun, is separated from the gun and fires a gun. Manufactured separately, the microchips fit easily into the standard-issue Glock pistol used by many law enforcement agencies.
"I see this as the beginning of an advancement well beyond my years," Wowak said.
About the size of an thumb and weighing less than a bullet, the microchip fits into vacant space in the grip of a handgun. The chip uses a downloaded app on the officer's smartphone to send signals to a computer server that tells dispatchers key pieces of information, including where the officer is and where the gun is pointing. It could be key in figuring out whether to send other officers to assist an officer in distress.
"Because Santa Cruz Sheriff's Office patrols a large area with minimal access to assisting officers, it would give us the ability to know when an office is engaged in a confrontational event before the officer has the opportunity to radio that in," Wowak said.
The technology is not what gun industry aficionados call smart gun technology, which focuses on limiting who can fire a gun, said Jim Schaff, vice president of marketing for Yardarm.
"It doesn't enable or disable the weapon," he said. "All we're doing is event and location."
The microchip is in the early stages of testing, with trial runs conducted with the Sheriff's Office and the Carrollton Police Department in Texas. Yardarm only produced microchips for a Glock pistol — a handgun commonly used by law enforcement. About a dozen members of the SWAT team at the Sheriff's Office are testing the technology through the end of November.
Continue reading full article here: http://www.santacruzsentinel.com/santacruz/ci_26788382/capitola-company-pioneers-firearm-tracking-technology
Tagged Yardarm