Featured
The world's most affordable CNC router is from Santa Cruz?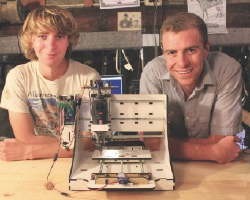 by Dan Becker
Good Times
[Editor's note: Santa Cruz Tech Beat published this related feature article in June: Kickstarter campaign nets 80+K for CNC router startup]
Two UCSC students carve a niche in the world of 3-D printing with an affordable new device
It's so transformative to design something on the computer, and then be able to make it into a real object," says 23-year-old Bar Smith, inventor of what could be the world's most affordable CNC router.
Operating like an automated sculptor, Smith's CNC (short for computer numerical control) device allows people to carve items out of raw materials like wood, plastic, foam and brick after they've designed the piece on a computer.
Similar to a 3-D printer, which lays down materials and builds pieces from the ground up with lasers, a CNC router instead uses metal bits to whittle the material down into the desired shape. And the router can create both two- and three-dimensional pieces, "so there is an unlimited number of things you can make," says Smith, who graduated from UCSC last month with an electrical engineering degree. The desktop device could be used to carve phone cases, chess boards, nameplates, or just about anything from material soft enough that it can cut and small enough to fit on the machine's working surface, Smith says.
At just over a cubic foot, this router costs less than $200, putting it at a tenth of the price of machines with similar capabilities—a big accomplishment for a 23-year old and his friends. And possibly for the entire world of 3-D printing: the invention has been met with global enthusiasm, and in May, Makesmith CNC—the start-up he founded with Thomas Beckett—garnered 800 percent of its Kickstarter funding goal to manufacture more of the devices.
Thoughts Become Things
A couple of years ago, Smith, a soft-spoken engineering student with shaggy blond hair, wanted to turn models he made on his computer into physical objects he could hold in his hand.
But Smith's success story began with a dilemma: a budget too tight to keep up with his ambitions. And the story of how he ended up with $80,000 in funding to distribute his invention to clamoring engineers, hobbyists and designers is a testament to patient perseverance.
Continue reading full article here: http://www.gtweekly.com/index.php/santa-cruz-news/santa-cruz-local-news/5808-3-d-revolution.html
###
Sara Isenberg publishes Santa Cruz Tech Beat for the benefit of the extended business and technology community. When she is not volunteering her time for the tech scene, Sara makes her living by managing software projects, web strategy planning, and providing development team services (including account management, vendor management, strategic partner management, beta project management, referrals to qualified technical team members, and more). Please visit her website: Sara Isenberg Web Consulting & Project Management, or contact Sara by email if you have any project management, account management, or Development Team leadership or service needs.
Tagged CNC router