Santa Cruz Tech Ecosystem
Santa Cruz Children's Museum of Discovery Revs Up
by Patrice Keet
Board President, Santa Cruz Children's Museum of Discovery
"We believe that a spectacular collaboration can occur between the Santa Cruz tech community and MOD that will bring the behind-the-scenes' aspect of technological innovations to the public in ways that will be fun and educational in the children's museum venue."
Fun, interactive exhibits and programs celebrating the wonders of Santa Cruz County including local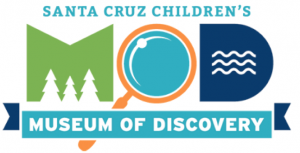 technology and innovation are being developed for the Santa Cruz Children's Museum of Discovery (SCCMOD). Local Santa Cruz parents have asked, "why should we have to drive over the hill or to Monterey to experience the fun and education to be had when kids connect abstract concepts with real-life things they can touch and manipulate?"
The Santa Cruz Children's Museum of Discovery (MOD) has spent two years planning for an exemplary 10,000 square foot museum to be located centrally so families and kids can play, explore, tinker, and get an expanded sense of their own community and the world around them. In addition to exhibits on technology and innovation, a dedicated toddler area will be included along with themed exhibit areas focusing on agriculture and health, recreation, our harbor and ocean and the redwood forest.
The museum will unfold in three different stages with its first offering already hitting the road in the form of a mobile museum. Keep your eyes open at local events, corporate gatherings, schools and birthday parties for a brightly colored van that will be carrying exciting exhibits and activities out to the public. The second phase of MOD will be a temporary mini-museum set up on a rotating basis in empty commercial space around the county. Plans for the permanent, 10,000 square foot are in process.
Collaboration with local technology and innovation
Where does technology and innovation fit into this planned museum? MOD plans to showcase inventions, innovations and exciting technology that have been developed locally. The MOD exhibit planning team has an inking of tech wonders that have been born or incubated here but we need the help of the tech community to fill in our gaps, help us brainstorm interactive exhibits for kids and help us figure out the best ways to use technology in a children's museum, both in its mobile version and in its permanent bricks and mortar location.
With the wealth of talent and creativity in Santa Cruz County, we believe that a spectacular collaboration can occur between the Santa Cruz tech community and MOD that will bring the behind-the-scenes' aspect of technological innovations to the public in ways that will be fun and educational in the children's museum venue.
For more information on SCCMOD go to www.sccmod.org. To share your ideas or questions, please contact Board President, Patrice Keet, at (831) 234-4014.
###
Sara Isenberg publishes Santa Cruz Tech Beat for the benefit of the extended business and technology community. When she is not volunteering her time for the tech scene, Sara makes her living by managing software projects, web strategy planning, and providing development team services (including account management, vendor management, strategic partner management, beta project management, referrals to qualified technical team members, and more). Please visit her website: Sara Isenberg Web Consulting & Project Management, or contact Sara by email if you have any project management, account management, or Development Team leadership or service needs.