Companies
"The Locals" features six local filmmakers on May 15
by Matt Steele,
Cosmic
The Santa Cruz Film Festival, in conjunction with Event Santa Cruz will present "The Locals" on Thursday, May 15, 2014 at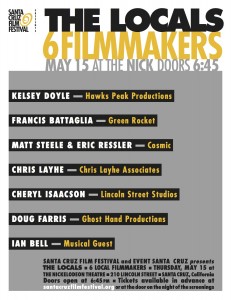 the Nickelodeon Theatre, 210 Lincoln Street, in downtown Santa Cruz. Doors open at 6:45pm.
"The Locals" will feature a diverse group of six local filmmakers. Each artist will have 15 minutes to introduce and screen their work. With an emphasis on how filmmaking has evolved, the subject matter will range from surf and music videos to documentaries, brand extension videos and more.
Cosmic is a full scope design and brand strategy firm. In addition to branding, design and development of websites and apps, they've produced videos for online streaming video company Looxcie, and 3D display pioneers zSpace. They also produced the presentation videos for the NEXTies awards in 2012 and 2013, including winner Darrin Caddes, VP of Design at local tech giant Plantronics.
Comic's core team consists of Creative Director/Cinematographer, Eric Ressler, and Producer/Writer/Director, Matt Steele. They added video production to their service offerings several years ago – during a client meeting.
"Making videos is a natural extension of what we already do," said Eric. Matt added, "Our clients need photography and video that matches the brand, messaging and visual style we create for them. We find that when a close-knit, integrated team conceptualizes and produces the entirety of the brand's collateral, you get the best results".
Ghost Hand Productions is a full service video production company that operates three video editing suites, an audio post-production suite, recording studios and rehearsal spaces, all within blocks of the Pacific Ocean in Santa Cruz's beautiful westside. Producer/Director and Founder Doug Farris will be on hand to screen some of their work. They've produced videos for tech companies big and small from Cisco and Adobe to audio innovator Universal Audio.
Started by two media professionals, Ghost Hand Productions came together to help provide post-production services for a television pilot produced by Balance Vector Productions. Once the decision was made to produce a whole season of the show, these two men decided to create what is now Ghost Hand Productions.
The show went on to be titled "Coolfuel Roadtrip" and has since aired in syndication on the Discover Science Channel, the new Planet Green channel and internationally on the Outdoor Life Network and Discovery India.
Kelsey Doyle started making music videos and experimental shorts in her backyard with the family video camera. She went on to earn a Bachelor of Arts in Film and Digital Media with a Concentration in Production from UCSC. Shortly after graduation, she launched Hawks Peak Productions, with her sister Sandra, as co-producer and director. Their first feature, The Howl Between Mountains, a documentary about the reintroduction of the grey wolf into Yellowstone National Park will come out in 2014.
Green Rocket Digital provides video production, special effects, editing and video SEO. Owner Francis Battaglia has 20 years of experience providing high quality professional video production, editing, and visual effects. With a strong background in sports video and special effects magic, his impressive client list includes WB TV Network, ABC, NBC, MTV, Ford, Toyota, HP and many more. When he's not in the studio, you'll find him surfing or playing the drums. 
From documentaries at the BBC, to commercials at Saatchi & Saatchi, Chris Layhe, owner of CLAI started his career as one of London's small band of "Creative Hotshots". Switching between genres and styles made little difference beyond changing desks and production tools. The challenge has always been in evolving and executing each concept to be very effective and of the highest standard.
Executive Producer, Creative Director and Founder of Lincoln Street Studios, Cheryl Isaacson specializes in branded film and thoughtful brand extension. From start-ups to national brands, her client list includes Invisalign, Google, Martinelli's Apple Juice, Attune Foods, Yammer and Mindbody.
The filmmakers will be available following the screening to discuss the technology used in their productions. If you're a camera or video geek, this is your chance to 'talk tech' with working filmmakers.
More information and tickets available on the Santa Cruz Film Festival website.
###
Sara Isenberg publishes Santa Cruz Tech Beat for the benefit of the extended business and technology community. When she is not volunteering her time for the tech scene, Sara makes her living by managing software projects, web strategy planning, and providing development team services (including account management, vendor management, strategic partner management, beta project management, referrals to qualified technical team members, and more). Please visit her website: Sara Isenberg Web Consulting & Project Management, or contact Sara by email if you have any project management, account management, or Development Team leadership or service needs.
Tagged Santa Cruz Film Festival
Related Posts