Santa Cruz Tech Ecosystem
Tech in Santa Cruz? Grok!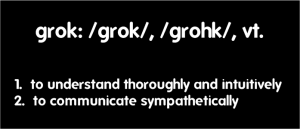 by Sara Isenberg
Founder, Publisher, Editor-in-Chief, Santa Cruz Tech Beat
[2/14/14: updated]
Curious about tech in Santa Cruz? New to the local tech community and want to catch up? Here is my current reading list if you'd like to get up to speed:
For a great overview of the Santa Cruz tech hub, read the 3-part Xconomy series (July/August 2013) by Wade Rouch here.
For another great overview of tech in Santa Cruz, read this Silicon Valley Business Journal insert (October 2013) produced by the City of Santa Cruz Economic Development Department:
Check our back digests in the archive here.
That said, most of Santa Cruz Tech Beat's news is pushed out via a free, weekly email digest. If you're new to Santa Cruz Tech Beat, subscribe here.
I'm proud to be one of the ambassadors to the Santa Cruz technology community.

###

Sara Isenberg curates and publishes Santa Cruz Tech Beat for the benefit of the extended business and technology community. When she is not volunteering her time for the tech scene, Sara makes her living by managing software projects, web strategy planning, and providing development team services (including account management, vendor management, strategic partner management, beta project management, referrals to qualified technical team members, and more). Please visit http://saraisenberg.com or contact Sara by email at sara@saraisenberg.com if you have any project management, account management, or Development Team leadership or service needs.
Tagged Santa Cruz Tech Ecosystem, Santa Cruz tech ecosystem for dummies, Tech in Santa Cruz? Grok!