Events
VIRTUAL 2nd Annual Monterey Bay DART Symposium Scheduled for October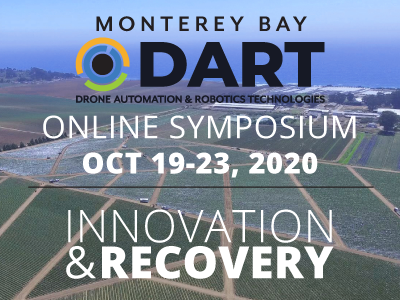 (Source: Monterey Bay DART)
July 9, 2020 — Marina, CA
"Innovation & Recovery" theme highlights cutting edge technologies and focuses on COVID-19 economic recovery
The 2nd Annual Monterey Bay Drone, Automation & Robotics Technology (DART) Symposium will be held at Online during the week of Oct 19-23, 2020. The Symposium will feature a week of compelling talks, workshops, networking and inspiration.
This world-class event will build on the momentum generated at the first Symposium, highlight cutting edge technologies being used and developed to address some of our greatest challenges, and place a hard focus on economic recovery from the COVID-19 driven economic downturn.
The Symposium will feature leading edge innovators, university researchers, entrepreneurs, investors and growth companies active in and around the Monterey Bay region developing and deploying solutions in human mobility, public safety, homeland security, national defense, agriculture and natural resource management, marine science and conservation.
###