Companies
Looker and Girl Geek X join forces for June 7 event in SF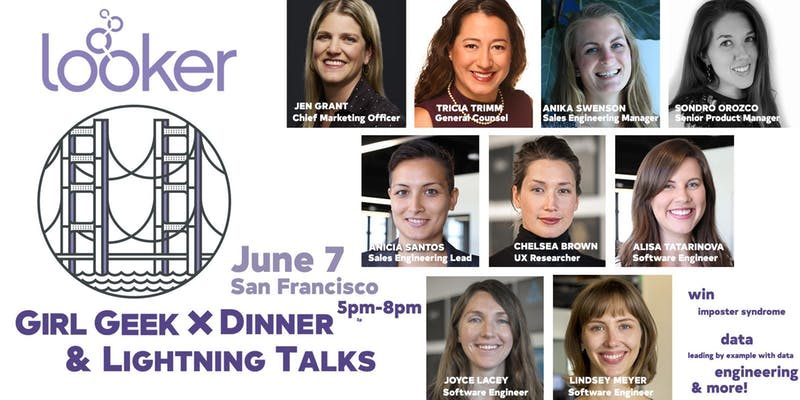 (Contributed)
May 24, 2018 — Santa Cruz/San Francisco, CA
Join Looker and Girl Geek X for an evening of insight and discussion with the innovative women of Looker at a Girl Geek X Dinner on Thursday, June 7, 2018 from 5pm to 8pm in Looker's SF office. All ages & genders welcome.
See speaker bios at girlgeek.io.
Enjoy food, drinks and networking and learn about Looker (product, company, culture and leaders) and meet Lookers across the company's Engineering, Product, Analytics, UX and the Executive team.
Looker Girl Geeks Speaking
JEN GRANT, Chief Marketing Officer
TRICIA TIMM, General Counsel
ANIKA SWENSON, Sales Engineering Manager
SONDRA OROZCO, Senior Product Manager
ANICIA SANTOS, Sales Engineering Lead
CHELSEA BROWN, UX Researcher
ALISA TATARINOVA, Software Engineer
JOYCE LACEY, Software Engineer
LINDSEY MEYER, Software Engineer
Event Agenda
5-6pm: Check-in, Food & Drinks, Networking
6-7pm: Welcome & Looker Girl Geeks Speak
7-8pm: More Food & Drinks!
Getting There
Looker's office is located at 2300 Harrison Street, San Francisco, CA 94110 on the first floor, with the entrance on the 19th Street.
Public transit: Looker is a 15 minute walk from 16th Street/Mission BART station.
Parking: There may be a few guest parking spots on the Harrison Street side of the building. If all of the guest spaces are taken, please park in the surrounding neighborhood, there are no time limits on street parking. Closest parking garage Mission/Bartlett – about a 15 minute walk.
About Looker
Looker is a complete data platform that offers data analytics and business insights to every department, and easily integrates into applications to deliver data directly into the decision-making process. Looker is powering data-driven cultures at more than 1300 industry-leading and innovative companies such as Sony, Amazon, The Economist, IBM, Spotify, Etsy, Lyft and Kickstarter. Looker is headquartered in Santa Cruz, California, with offices in San Francisco, New York, Chicago, Boulder, London and Dublin, Ireland.
###