Events
Hacked! Student-organized teen hackathon takes Santa Cruz by storm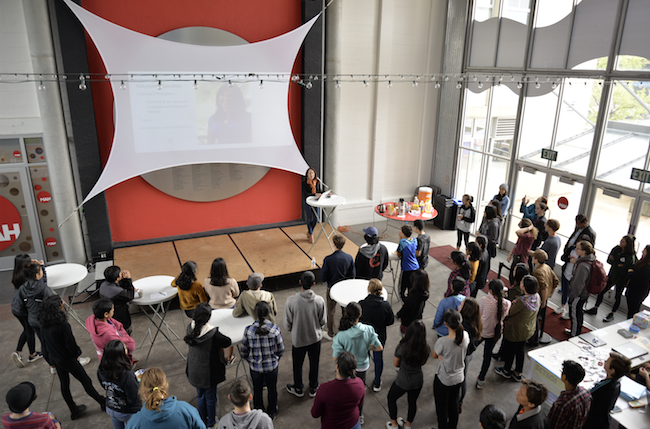 By Tatum Whitehead
Student, Pacific Collegiate School
Special to Santa Cruz Tech Beat
April 8, 2018 — Santa Cruz, CA
(Photo above: Corrina Dilloughery, Monarch Media Account Manager, kicked off the day-long event with a speech about motivation and confidence. Credit: Tatum Whitehead)
Santa Cruz Teen Entrepreneur Challenge motivates future generation of hackers
On Saturday, upwards of 50 students from around the Bay Area flocked to the Santa Cruz Museum of Art History for this year's Santa Cruz Teen Entrepreneur Challenge. It is a completely student-organized event.
"We love to give back to the community and invigorate the passion of computer science and design in the next generation," said Tara Tempesta, one of the event's organizers and a student at Pacific Collegiate School. Tempesta, along with her fellow co-organizers, juggled the responsibilities of planning this event while managing to stay atop their course load at school. "It has been a lot of work but it has been worth it," she added.
Emily O'Neill, the founder of the hackathon last year and now a student at Cal Poly San Luis Obispo, was inspired by her experience at an all-girls hackathon: "I was motivated to provide that experience for other people."
Several local companies sponsored the event including Looker, Code Naturally, Karman.aero, and Monarch Media. Corrina Dilloughery, Account Manager at Monarch Media, kicked off the event with a speech about motivation and confidence. And then the coding began.
The event spanned from 8am to 8pm with 12 hours of non-stop, well mostly non-stop, hacking fun. There were food breaks as well as a heated cup stacking competition.
Anyone — grades 7 through 12 — could participate and develop their interest in tech, engineering, and design through this hackathon. No coding experience was necessary and student mentors from UC Santa Cruz, UC Berkeley and Cal Poly San Luis Obispo came and helped.
Fueled by Rice Crispy Treats and Gold Fish, these young entrepreneurs tackled real-world problems being faced by our community today.
While attending this hackathon, I decided to participate. Despite the fact that I do not consider myself to be a hacker, nor would I frequent a hackathon of my own volition, I found the community to be welcoming and inclusive. Since I'm in the final stretch of a computer science class, I decided to write some code and see what I could accomplish. Much to my surprise, I was able to keep up with these young hacker-entrepreneurs savants.
After spending the day working on code or product design, the teams pitched their ideas to a panel of judges from local tech companies. One example was Foodie, an app that connects restaurants with excess food that would normally be thrown out to hungry people in the area. The projects completed in one of three categories, Tech, Design, and Movement, with each category having a different objective.
The future generation of hackers left motivated and impassioned. This event exemplifies the collaborative and welcoming spirit of the local tech community, while supporting the organizers and advisors who made this event possible. This is what communities are made of.
###